Gender equality could be centuries away - UN chief
Women's rights are still being abused and violated around the world, says United Nations Secretary-General Antonio Guterres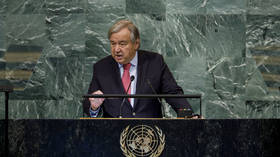 The hope of achieving gender equality throughout the world "is growing more distant," UN Secretary-General Antonio Guterres claimed on Monday during a speech to the Commission on the Status of Women.
Speaking ahead of International Women's Day on March 8, Guterres proclaimed that true gender equality was "300 years away," citing an estimate from UN Women – an organization dedicated to gender equality and female empowerment.
According to Guterres, young women are still being forced into early marriage and threatened with being kidnapped or assaulted for attending school in some parts of the world, which, along with high rates of maternal mortality, shows that gender equality is still a distant goal.
"Women's rights are being abused, threatened, and violated around the world," Guterres said, noting that "progress won over decades is vanishing before our eyes."
The UN chief drew special attention to the particularly dire situation in Afghanistan, where he said "women and girls have been erased from public life."
That's as the Taliban, which came back to power in Afghanistan in 2021, has issued a nation-wide ban on female education beyond the sixth grade and banned women from many jobs and public places such as parks and gyms.
The secretary-general also pointed out that women were getting left behind in technology and innovation, noting that only 19 percent of women in the least developed countries are connected to the internet.
"Misogynistic disinformation and misinformation flourish on social media platforms," he said, adding that so-called "gender-trolling" is "specifically aimed at silencing women and forcing them out of public life."
In order to achieve gender equality, Guterres insisted there must be "collective" and "urgent" action, such as increasing education, income, and employment rates for women, especially those in developing nations in the Global South.
"Centuries of patriarchy, discrimination and harmful stereotypes have created a huge gender gap in science and technology," the UN chief said, noting that women represent only 3% of Nobel prize winners in those fields.
He called on governments across the world, civil society and the private sector to provide gender-responsive education, improve skills training and invest in "bridging the digital gender divide."
You can share this story on social media: