Pentagon chief downplays importance of besieged Donbass city
The fall of Artyomovsk –called Bakhmut by Ukraine– won't mean Russia has changed the tide of battle, Lloyd Austin believes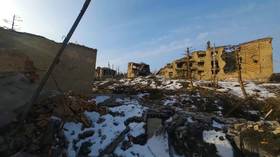 The city of Artyomovsk, or Bakhmut as it is known by Ukraine, is of more symbolic than operational importance, US Secretary of Defense Lloyd Austin claimed on Monday, according to Reuters.
The battle for the city – a major stronghold and logistics hub for Kiev's forces in the Donetsk People's Republic (DPR) – has continued for months, being described by some as the fiercest in the conflict between Russia and Ukraine.
Yan Gagin, an adviser to the DPR's acting head Denis Pushilin, said on Monday that Russian forces have encircled the key city, trapping around 10,000 Ukrainian troops inside.
The Pentagon chief, however, said he wouldn't consider it a strategic setback if Ukrainian troops decide to reposition themselves on new defense lines west of the city.
"The fall of [Artyomovsk] won't necessarily mean that the Russians have changed the tide of this fight," he said.
While acknowledging the possibility of a defeat for Ukraine in Artyomovsk, Austin refused to speculate on whether or when it'll happen.
German tabloid Bild reported on Monday that the city had become a source of internal conflict between Ukrainian President Vladimir Zelensky and the commander-in-chief of the country's armed forces General Valery Zaluzhny. Insiders in Kiev told the outlet that Zaluzhny had called for a withdrawal from the city weeks ago. However, Zelensky's office said on Monday morning that his top generals supported continuing the defensive operation in Bakhmut.
According to Western media reports, the US government has been urging Kiev to pull out of Artyomovsk since late January and to prepare instead for future counter-offensives in other areas. However, Zelensky has insisted the city will fight for as long as possible
Senior Biden administration officials told the Washington Post in late February that the Ukrainian leader "attaches symbolic importance" to the city and fears a setback to morale if it's captured by Russian forces.
You can share this story on social media: