Ex-minister wanted to 'frighten' Brits into Covid compliance – leaked messages
Texts reveal that Matt Hancock wanted his announcement of a new Covid variant to have 'maximum impact'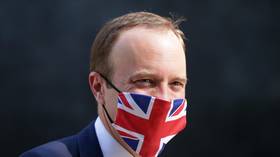 Former UK health secretary Matt Hancock wanted to "frighten the pants off everyone" to ensure compliance with the government's Covid-19 restrictions, a trove of leaked text messages has revealed.
More than 100,000 text messages were leaked to the Sunday Telegraph newspaper. Among them is a purported exchange between Hancock and Cabinet Secretary Simon Case in which Case suggested in January 2021 that "fear" would be a "vital" factor in ensuring UK citizens' compliance with Covid restrictions.
They also appear to show that Hancock discussed when to reveal information to the public about the discovery of a new strain of the virus in the hope of maximizing the impact of lockdown rules.
"Rather than doing too much forward signalling, we can roll pitch with the new strain," a purported message from Case reads. Hancock reportedly responded: "We frighten the pants of (sic) everyone with the new strain."
"When do we deploy the new variant," Hancock apparently asks in a subsequent message.
The alleged text message conversation, which took place on December 13, 2020, came at a time when concerns were rising about a sharp increase in Covid cases in southeast England. Hancock revealed a day later, on December 14, that a new variant of Covid-19 had been identified in the country.
Five days later London and southeast England entered a so-called tier 4 alert status which imposed increased Covid restrictions over the Christmas period, as Boris Johnson's Conservative government axed plans to relax rules. On January 6 2021, England entered what was a third national lockdown.
The reported messages also revealed that Hancock and other government figures were concerned that London mayor, Sadiq Khan, may resist plans to impose a strict lockdown on the English capital. The mayor of Greater Manchester, Andy Burnham, had previously clashed with the government over its plans to introduce strict lockdown rules in the area.
Hancock has responded to the leaks saying that there is "absolutely no public interest case" for the "huge breach" of text messages, which he described as a "massive betrayal".
"As we have seen, releasing them in this way gives a partial biased account to suit an anti-lockdown agenda," Hancock said on Thursday.
The messages were given to the Sunday Telegraph by journalist Isabel Oakeshott, a prominent critic of lockdowns who had been collaborating with Hancock on his memoir. Oakeshott has maintained that the leaks of the text messages are in the public interest.
You can share this story on social media: