Woman euthanized on anniversary of murdering five kids
Genevieve Lhermitte first tried to commit suicide after slitting the throats of her children in 2007, but failed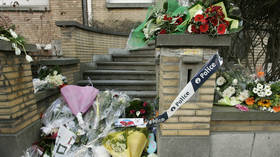 Convicted child-killer Genevieve Lhermitte died on Tuesday after being granted a request for euthanasia by the Belgian government, her former lawyer, Nicholas Cohen, told AFP. She was put to death exactly 16 years after she ended the lives of her five children at their family home in Nivelles.
On February 28, 2007, Lhermitte slit the throats of her three-year-old son Mehdi and her four daughters, Mina (7), Myriam 10), Nora (12), and Yasmine (14), while their father, Bouchaib Moqadem, was visiting family in Morocco. She used a kitchen knife she had stolen from the supermarket earlier that day, and later spoke in court of how she had tricked her eldest daughter Yasmine into blindfolding herself before bludgeoning the girl unconscious and slitting her throat, having feared the 14-year-old was too strong for her.
Lhermitte then tried to stab herself to death but was unable to and ultimately called emergency services.
Lhermitte testified that she had felt "desperate and trapped" stuck at home with her children while Moqadem was away, and that a doctor living with the couple was interfering in her role as wife and mother, accompanying the married couple on their honeymoon and even sleeping in their room to prevent intimacy.
While her lawyers argued during the trial that Lhermitte was mentally disturbed and unfit for prison, highlighting her regular psychiatrist visits among other things, Lhermitte was quickly convicted of the murders and sentenced to life in prison in 2008. She attempted to sue her former psychiatrist in 2010 for failing through "inaction" to prevent the murders, but gave up after ten years.
She was transferred to a psychiatric hospital from prison in 2019 and reportedly tried to kill herself again in 2021.
While psychologist Emilie Maroit acknowledged that the Lhermitte's final, successful suicide attempt could have merely been an effort to finish what she started 16 years previously, he told local Belgian outlet RTL-TVI that it was instead "a symbolic gesture in respect for her children." She had long expressed remorse over the murders.
In 2002, Belgium became the second country to legalize euthanasia, allowing it so long as a client can be said to be suffering from "unbearable" psychological and/or physical torment. Clients must be both conscious of their decision to die and able to express that wish in a "reasoned and consistent manner," according to AFP – qualifications Lhermitte's lawyer insisted she fulfilled.
You can share this story on social media: