Ukraine issue 'paralyzing' G20 – Mexico
The global club needs to focus on things which members see eye to eye on, the country's top diplomat believes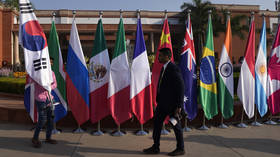 The Ukraine conflict should not top the G20's agenda to the detriment of other pressing global issues, Mexican Foreign Secretary Marcelo Ebrard argued on Friday. The top diplomat warned that given the divisive nature of the topic, the club's discussions could end up stalled if they dwell on the faceoff between Kiev and Moscow.
Speaking at a panel called 'The New High Table: Realigning the #G20 in a Changing World' in New Delhi, Ebrard said that while the ongoing struggle constituted a "geopolitical urgency" it was also important to "avoid the paralysis of the G20."
According to the Mexican official, there is "obviously" no consensus on the Ukraine conflict among the member states. However, the group should strive to find common ground at least with respect to other issues and "demonstrate that we can deliver" in those fields, Ebrard said.
He also cautioned his colleagues not to "replicate the [UN] Security Council situation," which has been effectively locked in a bitter impasse over Ukraine for the past twelve months. The diplomat suggested that the Council has become irrelevant to the international community due to this "paralysis," noting that all eyes are now on the G20 meetings.
Last month, ahead of the high-profile event in the Indian capital, the host nation urged participants to focus on securing unity among themselves to address global challenges instead of sticking to "contentious issues."
Addressing the visiting dignitaries, India's information minister Anurag Thakur emphasized the importance of the "spirit of multilateralism."
Around the same time, Reuters quoted anonymous Indian sources as saying that New Delhi did not want suggestions of anti-Russian restrictions to be floated during the G20 meetings.
On Thursday, Russian Foreign Minister Sergey Lavrov accused the West of turning the G20 meetings "into a circus" with anti-Russian rhetoric.
Those attacks against Moscow looked "particularly wild" coming from nations who "never complained at [the organization's] meetings over the many hundreds of thousands of victims of Washington's adventures in the Middle East, which were conducted under the pretext of national security" thousands of miles from American soil, the foreign minister said.
Lavrov also claimed that the West seeks to replace international law with "voluntarist rules and double standards." He contended that Moscow, by contrast, advocates a fair multipolar arrangement, where different civilizations are respected.
You can share this story on social media: