Irish grandmother jailed for calling Ukrainians 'rapists and criminals'
The 68-year-old homeless woman had demanded a room at a hotel housing refugees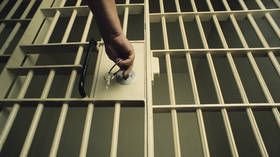 A homeless grandmother in Ireland has been sentenced to 16 weeks behind bars for entering a hotel housing Ukrainian refugees and shouting that they were "rapists and criminals." The woman had sought accommodation, but was told no rooms were available.
Margaret Buttimer appeared before a district court in Bandon, County Cork on Thursday, where police told the judge that they were called to a disturbance at a hotel in the town in late January.
They found Buttimer shouting in the reception area, recalling that "she wanted to know how many Ukrainian nationals were staying in this hotel, what was the cost to the Irish people, and saying 'these Ukrainians are rapists and criminals'," according to a report by the Irish Times.
Police said that she refused to desist and leave the hotel, and they had "no option" but to arrest her.
Buttimer was sentenced to six weeks in prison, with half the sentence suspended on the condition that she stay away from any facility housing Ukrainian refugees.
The 68-year-old woman has 13 previous convictions, including for a similar incident at the same hotel in December. The court heard that she entered the premises and asked staff "why are all the Ukrainians getting a room and there is no room for me, an Irish citizen?
Buttimer's earlier convictions involved breaches of coronavirus restrictions.
Ireland took in more than 70,000 Ukrainian refugees last year and more than 13,000 migrants from other countries. The arrival of the latter group, the majority of whom are male and hail from the Middle East and Africa, has triggered protests in the communities where they have been housed.
The migrant influx has come amid a chronic housing shortage in Ireland exacerbated by the failure of post-asuterity governments to address public needs. House prices and rents have more than doubled in the last decade, and according to the government's most recent figures, there are more than 8,300 homeless people in emergency shelters across the country.
You can share this story on social media: