Russia accuses UK of stalling poisoning probe
On the fifth anniversary of the Skripal case, Moscow has lamented London's failure to share information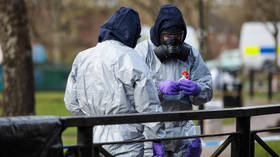 The UK has yet to provide Moscow with any credible information on the poisoning of Sergey and Yulia Skripal on British soil five years ago, Russia's Foreign Ministry has insisted. Spokeswoman Maria Zakharova also accused the UK of incorporating the incident into an anti-Russian narrative.
In a statement released on Saturday, Zakharova claimed that the British authorities had used the "incident in Salisbury" to "purposely complicate our bilateral relations." She pointed out that despite Moscow's repeated calls for "responsible dialogue," London has so far refused to jointly investigate the poisoning, which targeted Russian nationals.
"To date, the UK has not been able to present any reliable information on the 'Skripal case'," the spokeswoman said.
At the same time, she stated, London "continues to shamelessly use it in its massive anti-Russian campaign."
Zakharova went on to reiterate that Moscow insists on a "professional, objective and unbiased investigation," and strongly condemns London's attempts to lay the blame at Russia's doorstep.
In 2006, Sergey Skripal, who had previously served in Russia's foreign military intelligence agency (GRU), was convicted and jailed for handing over state secrets to British intelligence. Four years later, he was pardoned and allowed to move to the UK as part of a spy swap deal.
On March 4, 2018, Skripal and his daughter Yulia were found unconscious. British authorities established that the two had come into contact with the nerve agent Novichok. They were later confirmed to have recovered.
London named three men as suspects, claiming they were Russian agents. Moscow categorically denied any involvement.
You can share this story on social media: