US gun owners slam tracking plan
Gun store purchases will be flagged by credit card issuer Discover for the first time, a move affecting 55 million cardholders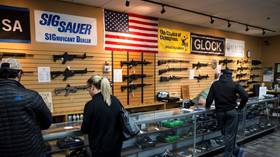 Discover is set to become the first credit card issuer to track users' gun purchases, Reuters recently revealed. The measure has outraged gun rights advocates, including several members of Congress, who see Discover – and companies with similar plans – assisting the Biden administration in chipping away at Americans' constitutional right to bear arms.
Discover will include the merchant category code – a four-digit number used to determine tax rates and evaluate the customer's financial habits, among other things – for "gun and ammunition shops" in next month's policy and product update, the company told Reuters, singling out a purchase that was previously classified under "general merchandise." This will make it easier for authorities to investigate gun crimes, the card issuer claimed.
Second Amendment advocates have argued the initiative violates the privacy of lawful gun owners and uses the private sector to achieve what the gun control lobby cannot accomplish in Congress. Industry group the National Shooting Sports Federation pointed out that even the New York Times columnist who initially proposed the merchant code idea said it was only "the beginning."
"They are coming for your guns little by little," Rep. Troy Nehls (R-Texas) warned in a tweet on Thursday, one of many Republican politicians to take to social media to raise the alarm about Discover's activities.
Rep. Lauren Boebert (R-Colorado) urged Congress to address the "MASSIVE problem … IMMEDIATELY," while Rep. Andy Biggs (R-Kentucky) warned the credit card company was helping to construct a "surveillance state," urging his followers to "wake up" while they had a chance. Florida congressional candidate Lavern Spicer advised her followers to close their Discover accounts.
Florida State Senator Danny Burgess (R-Zephyrhills) introduced a bill last month that would fine credit card companies up to $10,000 per violation for tracking guns and ammo sales in the state. A merchant category code just for gun shops "would lead to the creation of a registry in essence, potentially having a chilling effect on constitutional rights," he told local outlet Orlando Weekly.
Following the backlash, Discover insisted it was merely following the lead of other payment network companies that said they would adopt the code after it was cleared by the International Organization for Standardization (ISO) for a February rollout.
The company said it would continue to "protect and support lawful purchases on our network while protecting the privacy of cardholders." While Visa and MasterCard have expressed support for the measure, neither has set a date for adopting it.
You can share this story on social media: