Pentagon papers leaker reveals cancer diagnosis
In a final message, anti-war activist Daniel Ellsberg warned of the looming threat of nuclear armageddon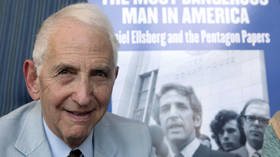 Daniel Ellsberg, who leaked the 'Pentagon Papers' that revealed the US' covert attempts to ramp up conflict in Vietnam since the 1940s, has announced that he has terminal pancreatic cancer. In a parting message to other activists, he warned of the possibility of nuclear war between the US and Russia.
"On February 17, without much warning, I was diagnosed with inoperable pancreatic cancer," the 91-year-old activist wrote on Twitter on Friday. "I'm sorry to report to you that my doctors have given me three to six months to live," he continued, adding that he had chosen not to undergo chemotherapy.
"The current risk of nuclear war, over Ukraine, is as great as the world has ever seen," Ellsberg wrote, condemning both the US and Russia for refusing to follow the lead of India and China in declaring "no-first-use policies." However, he added that any nuclear war plans, deployments, and exercises "are and always have been immoral and insane."
I wrote this letter recently to my friends in the antiwar and anti-nuclear movements. I see it's being circulated, so I've decided to share it here. For all of you working on these issues, thank you, and please keep going! pic.twitter.com/8BIerLHD2U

— Daniel Ellsberg (@DanielEllsberg) March 2, 2023
Regardless of who fires first, nuclear war and the ensuing nuclear winter would cause "death by starvation for most of the humans and other vertebrates on earth," Ellsberg stated, lamenting the fact that "this scientific near-consensus has had virtually no effect on the Pentagon's nuclear war plans or US/NATO (or Russian) nuclear threats."
Moscow has repeatedly warned the West that its continued involvement in the Ukraine conflict could potentially trigger a direct nuclear confrontation between Russia and the US. Russia's long-standing nuclear doctrine allows for use of its atomic weapons in the event of a first strike on its territory, or if the existence of the Russian state is threatened.
Before he was an anti-nuclear campaigner, Ellsberg was a military analyst with the RAND Corporation. In 1969, while participating in a government-ordered study on the runup to the Vietnam War, Ellsberg copied thousands of classified documents detailing the US' deepening involvement in the conflict long before it openly entered in 1964.
The papers, which were published in part by the New York Times, also showed how multiple US administrations lied to the American public about battlefield losses in Vietnam, while enlarging the scope of the conflict without public discussion.
Ellsberg was prosecuted for espionage by the Nixon administration, but the charges against him were dropped following a mistrial in 1972. Members of Nixon's White House Special Investigations Unit illegally wiretapped Ellsberg, before going on to commit the Watergate break-in that ultimately resulted in Nixon's resignation that same year.
You can share this story on social media: