EU accused of waging 'food war'
Brussels is trying to change Western "dietary values" by declaring insects fit for human consumption, a Polish official has said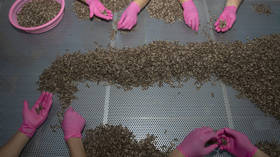 The EU is conducting a "food war" against traditional Western dietary habits, according to Polish Deputy Agriculture Minister Krzysztof Cieciora. The remarks came after a European Commission ruling in January approved the use of house crickets in food.
Appearing on Poland's Radio Lodz on Friday, Cieciora alleged that EU officials "are trying to change trends," and argued that their recent decision represented "a battle" and "a food war."
"Overturning dietary values in the West is becoming a serious element of discussion," insisted Cieciora, who also predicted an aggressive campaign to promote newly introduced ingredients across the bloc.
According to the minister, Warsaw does not agree "to these alternatives" or to being told by the EU "what and how much we should eat."
While the Polish government is not planning to ban foodstuffs made from insects, it is determined to "protect traditional food values and the freedom of choice," Cieciora explained.
In January, the EU's executive arm officially allowed food companies to use partially defatted and powdered house crickets as well as the larvae of the Alphitobius diaperinus mealworm for human consumption.
The commission cited the scientific opinion of the European Food Safety Authority, which in August 2021 concluded that "frozen and dried formulations from whole house crickets" are "safe under the proposed uses and use levels."
The EU authorities also established a procedure for preparing insects, with adult crickets first having to undergo a 24-hour fasting period so that they "discard their bowel content." They are then frozen, washed, thermally processed, have their oil extracted, and are ground into powder.
On the completion of these stages, the resulting powder can be used in cereal bars, biscuits, pizza, pasta-based products, and whey powder, provided that these are appropriately labeled.
Last month, the owner of a restaurant chain in the Italian city of Turin told the press he was planning to sell loaves of bread enriched with cricket powder. Another Italian company already produces crackers made with the same ingredient.
While insects form part of traditional cuisines in some Asian countries, their use as food is still relatively novel to Europe.
Proponents tout insects as an affordable source of animal protein whose production entails a far lower level of greenhouse gasses emissions compared to traditional cattle farming.
You can share this story on social media: