Biden's former 'disinfo czar' pleads for donations
Nina Jankowicz, who briefly led the Disinformation Governance Board, is raising money to sue Fox News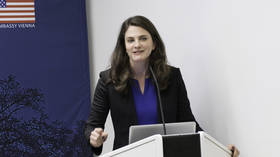 Nina Jankowicz, who briefly served as head of the Biden administration's Disinformation Governance Board, has launched a crowdfunding campaign to sue Fox News for portraying her as "an unhinged, partisan fascist." Ridiculed as a modern-day "Ministry of Truth," the body was disbanded last August.
Jankowicz launched her GoFundMe campaign on Thursday, and is asking the public for $100,000 to "hold Fox News accountable for its lies." The conservative network, she said, broadcast "baseless claims that the board was a nationwide, Orwellian 'Ministry of Truth' and I was 'President Biden's chief censor'."
"Congressional Republicans and the right-wing media characterized me as an unhinged, partisan, unserious, dangerous fascist," she continued, claiming that she resigned from the board last May due to this "smear campaign."
Jankowicz resigned one day after the board, which was under the jurisdiction of the Department of Homeland Security (DHS), was paused. Announced in late April, the board was instantly met with a wave of criticism, with conservative lawmakers and pundits viewing it a blatant attempt by the Biden administration to formalize the censorship of social media.
Whistleblower documents provided to Republican senators last June showed that the board "planned to coordinate efforts to leverage ties with social media platforms to enable the removal of user content."
Personal attacks on Jankowicz focused on her own role in allegedly spreading partisan disinformation. She called the New York Post's October 2020 scoop on Hunter Biden's abandoned laptop a "Trump campaign product," and proposed that Big Tech platforms censor claims that Covid-19 leaked from a Chinese lab. The laptop has since been declared genuine by multiple investigations, and the lab-leak theory has been given credence by the US Department of Energy and the FBI.
The board would have streamlined the administration's existing censorship missions, which according to files released by Twitter CEO Elon Musk involved intelligence agencies and State Department-funded entities. They also covered like-minded NGOs instructing Twitter's prior management to restrict critical content on Covid-19, the conflict in Ukraine, and "racial justice protests," while banning accounts under the false pretext of them being linked to Russia, China, and other states.
Four months after it was first announced, the DHS permanently disbanded the board last August. However, leaked documents show that the Cybersecurity and Infrastructure Security Agency (CISA), an agency within the DHS, is still engaged in combating so-called "disinformation," including by instructing Facebook and Instagram to censor certain anti-establishment messages and narratives.
You can share this story on social media: