US city mayor arrested in child porn case
Patrick Wojahn resigned from his role in College Park, Maryland shortly before being detained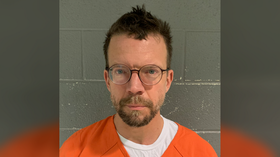 The former mayor of College Park in the US state of Maryland, Patrick Wojahn, has been arrested on multiple charges of child pornography possession and distribution. His detention came just hours after he handed in his resignation.
The Prince George's County Police Department (PGPD) announced the developments on Thursday. According to a statement, the National Center for Missing and Exploited Children brought a suspicious social media account to the state authorities' attention on February 17. The tip-off said that the account "possessed and distributed suspected child pornography" which had been uploaded in January of this year.
The PGPD then used "various investigative techniques" to establish that the account "belonged to Wojahn."
On Tuesday, detectives searched the 47-year-old official's home, impounding "multiple cell phones, a storage device, a tablet and a computer." Criminal charges were then brought against Wojahn, who faces 40 counts of possession and 16 counts of distribution of "child exploitative material."
Officials noted that the investigation is ongoing.
According to a statement published by the College Park City Council, Wojahn submitted his letter of resignation "after business hours" late on Wednesday. Officials thanked him for his "dedicated service" in his role as mayor since 2015, and on the council since 2007.
In his resignation letter, which was also made public, the ex-mayor insisted that he has "cooperated fully, and will continue to cooperate, with law enforcement." Wojahn said that he was "stepping away to deal with my own mental health," asking former colleagues to keep him and his family "in [their] prayers."
Wojahn's former co-workers described the news of his arrest as a "total surprise," adding that any residents who feel distressed by the developments are encouraged to "seek any help they feel necessary to work through this trying time."
Mayor Pro Tem Denise Mitchell will occupy office until an election is held.
College Park is a city of just over 34,000 residents, and is home to the University of Maryland campus.
You can share this story on social media: