Oil giant sued over nooses
ExxonMobil allowed a "racially hostile work environment" to affect its Louisiana plants, a federal commission alleges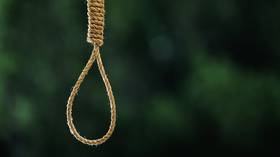 Petrochemical giant ExxonMobil allowed harassment of its black employees at a facility in Louisiana to continue by failing to properly investigate several incidents in which a hangman's noose was displayed there, the US Equal Employment Opportunity Commission (EEOC) had alleged.
The EEOC said in a lawsuit filed on Thursday that there were five such incidents at the Baton Rouge complex, which includes a refinery and a chemical plant. The latest one happened in December 2020. The company failed to probe some of them and did not act to stop the harassment, the body claimed.
"When employers become aware of racially offensive or threatening conduct in the workplace, they have a legal obligation to take prompt, remedial action aimed at stopping it," Rudy Sustaita, regional attorney for the EEOC's Houston District Office, stated.
The characterization of the incidents as racist is based on nooses being a reference to the history of the lynching of black people in the US. The EEOC claimed the employer's inaction created a "racially hostile work environment," but Exxon denied the allegations.
"We encourage employees to report claims like this, and we thoroughly investigated. The symbols of hate are unacceptable, offensive, and in violation of our corporate policies," spokesperson Todd Spitler said in a statement.
The EEOC said it filed the suit in the US District Court for the Middle District of Louisiana after first trying to reach a pre-litigation settlement.
There have been a number of reported noose incidents in the US in the last several years. One of the more publicized cases involved Nascar's only black driver, Bubba Wallace. He complained in June 2020 after a team member found a noose at its assigned garage at Alabama's Talladega Superspeedway.
The FBI concluded after an investigation that there was no hate crime, confirming that the knotted rope was used as a door pull long before Wallace's crew arrived at the venue.
You can share this story on social media: