Gunmen issue threat to Messi
Armed assailants attacked a store in Argentina owned by the superstar's family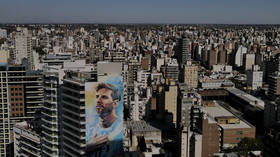 A pair of gunmen fired at least a dozen shots and left a threatening message for Argentine football star Lionel Messi in a raid on a supermarket owned by his in-laws. The incident on Thursday morning was dubbed an act of "terrorism" by a local justice official.
The attack unfolded at the Unico supermarket owned by the family of Messi's wife, Antonella Roccuzzo, in the Argentine city of Rosario. Two assailants arrived on a motorcycle and unleashed at least 12 shots toward the business, police said.
An message was left for the professional footballer on a piece of cardboard at the store, reading "Messi, we're waiting for you." It also referenced a local politician, Rosario mayor Pablo Javkin, claiming he is a "drug trafficker" and would not "take care of" Messi.
There were no injuries in the shooting, which came amid a spike in violence linked to criminal groups in Rosario. Local prosecutor Federico Rebola said police were still looking into the incident, and that the investigation was at a "preliminary stage." He added that Thursday's attack was the first known threat toward Messi's family.
The Santa Fe province justice minister, Celia Arena, called the shooting an act of "terrorism" carried out by a "mafia" organization.
"The aim is to deliberately cause terror in the population and discourage those of us who are fighting against criminal violence, knowing that it will be an event of global significance," the official said.
Messi, who keeps a home in Rosario and frequently visits family there, has so far offered no comment on the incident.
Considered among the greatest footballers of all time, the 35-year-old won FIFA's best men's player award earlier this week. He currently plays for the French club Paris Saint-Germain, following a 20-year career with Barcelona, and finally led the Argentine national team to its first World Cup win in decades late last year.
You can share this story on social media: