Japanese company sued for modern slavery
Ecuador has indicted three Furukawa executives for human trafficking for the purpose of labor exploitation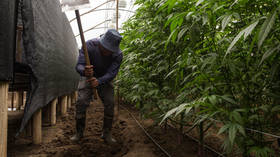 Executives of a Japanese banana harvesting company are facing legal action in Ecuador for allegedly practicing modern slavery. This comes after the firm was ordered last month to compensate former workers and their families for generations of exploitation.
On Monday, an Ecuadorian court formally announced charges of human trafficking and labor exploitation against three senior employees of Furukawa Plantaciones C.A., a Japanese entity that markets and exports abaca, a banana species used to make tea bags, rope, paper, and banknotes.
The three are also being accused of child and adolescent labor violations.
The lawsuit marks the first time the South American nation has ever indicted a company and its executives for practicing modern slavery. The judge presiding over the case, Susana Sotomayor, stressed the significance of the indictments, noting that several government ministries had tried to intervene in the lawsuit before it went to trial.
"I ask myself: what was the involvement of the public institutions before the beginning of the criminal process?" asked Sotomayor, stating that the country's government is supposed to protect its citizens. The issue of the government's potential involvement in the labor exploitation scheme is set to be addressed in a separate trial.
Furukawa, which has operated in Ecuador for almost 60 years, was first brought into the spotlight in 2018 when the Ecuadorian ombudsman office published a report accusing the company of providing its employees with "subhuman" housing conditions, employing adolescent and child labor, and disregarding labor rights.
It was also revealed that many plantation workers had to pay out of their own pocket for equipment such as machetes and gloves, as well as medicine and healthcare, while barely making enough to cover the cost of food.
Last month, a court found that the Furukawa workers, many of whom are Afro-Ecuadorian, had suffered racial discrimination and were victims of servitude. The company was ordered to pay out compensation to 123 employees.
The company along with several government ministries were also ordered to issue an apology in local media and on their websites, listing all 123 workers by name.
Furukawa has yet to issue a comment on the lawsuit, but Marcelo Almeida, the ex-head of Furukawa in Ecuador, had previously insisted that he was unaware of any violations on the plantations. He explained that Furukawa had rented out land to contract workers and that it was they who were responsible for the laborers' living conditions.
You can share this story on social media: