Ex-colonial power proclaims end of Africa interference
France will act as "a neutral interlocutor" and not get involved in the local politics, President Emmanuel Macron has announced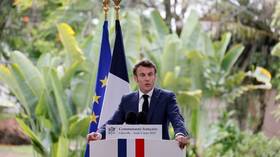 The era of French dominance over its former colonial possessions in Africa is now a thing of the past, President Emmanuel Macron pledged on Thursday. The French leader earlier promised to reduce Paris' military footprint on the continent, as its relations with a number of countries have recently gone into a tailspin.
Speaking in the West African nation of Gabon on the first day of his tour around the continent, the president claimed that the "age of Francafrique is over."
"Sometimes I have the feeling that mentalities are not evolving at the same pace as we do … I see that France is still attributed intentions that it doesn't have," Macron added, portraying Paris as "a neutral interlocutor."
According to the French president, his country acts in this capacity both in Gabon and elsewhere. Paris "speaks to everyone and its role is not to interfere in exchanges of domestic policy," he stated.
Having said that, he went on to address concerns voiced by the Gabonese opposition, who saw his visit as a way of supporting President Ali Bongo. "I did not come to invest in anyone. I only came to show my friendship and my consideration to a country and a brotherly people," Macron insisted.
The president's remarks came after earlier this week he said that Africa would see a "noticeable reduction" in France's military presence. According to Macron, however, these policies should not be viewed as "a withdrawal or a disengagement" but rather as "adapting an arrangement" with French allies.
In recent months, France has experienced several diplomatic setbacks in the region. On Tuesday, Burkina Faso officially scrapped the military assistance agreement with Paris, showing its troops the door. The move came amid a popular perception in the West African country that French troops are unable to protect locals from radical Islamists.
In August 2022, France also withdrew its troops from Mali after massive protests erupted against the presence of the former colonial power. At the time, the local government also accused the French forces of training militant groups on their land.
You can share this story on social media: