Ancient mummy found in deliveryman's backpack
The man told Peruvian police the centuries-old corpse was his "spiritual girlfriend" who had been in his family for decades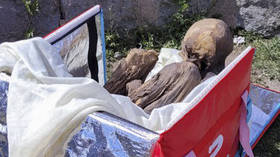 Peruvian police have confiscated a centuries-old human mummy after discovering it inside the insulated backpack of a local deliveryman, who insisted it was a family heirloom of sorts, AFP reported on Tuesday.
Julio Cesar Bermejo had stashed the mummy – estimated to be between 600 and 800 years old – inside the bag he used to deliver food while he and his friends passed the time in an archaeological park in the city of Puno on Saturday. Police took an interest in the backpack after allegedly observing him "acting drunk" during a routine patrol of the park and were shocked to discover the shriveled body of an adult human curled into the fetal position inside.
The 26-year-old deliveryman insisted he was not trying to sell the mummy, claiming he had only brought it out for the day because "my friends wanted to see it." The bandage-wrapped corpse had come home with his father nearly 30 decades earlier, he said.
In a video that has since gone viral, Bermejo explains that his preserved pal now spends its days in a box next to his television, describing the mummy as "like my spiritual girlfriend" and referring to "her" as "Juanita."
"At home, she's in my room, she sleeps with me. I take care of her," he tells the cameraman, gesturing to the body in the bag.
According to the Ministry of Culture, however, the mummy is actually an adult male over 45 years old, likely hailing from eastern Puno in the Andes mountains. "It's not a Juanita, it's a Juan," a specialist quipped to AFP.
The ministry told the outlet it had taken possession of the mummy "with the aim of protecting and preserving this heritage."
Meanwhile, Bermejo was arrested while police investigated how he had come to obtain the mummy, a government official told AFP on Tuesday.
You can share this story on social media: