Blinken finds 'positive elements' in Chinese peace plan for Ukraine
The US secretary of state said Beijing's 12-point plan had aspects to it that echoed Kiev's own suggestions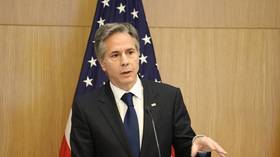 Beijing's recently proposed roadmap to resolving the Ukraine crisis includes several "positive elements" but ultimately rings hollow because China has not provided any support to Kiev, US Secretary of State Antony Blinken claimed on Wednesday during his visit to Uzbekistan.
The top diplomat noted that China's proposal even contained some points found in Ukrainian President Vladimir Zelensky's own peace plan, such as the need to respect the sovereignty and territorial integrity of all countries.
However, Blinken stated that if Beijing was serious about its plan, it "would have been spending all of the last year working in support of the restoration of Ukraine's full sovereignty," while Moscow carried out its military operation in the country.
Instead, Blinken says China has been advancing "Russian propaganda" about the conflict, providing economic and diplomatic cover for Moscow amid tightening Western sanctions and even allegedly contemplating sending military aid to Russian forces.
Last week, China unveiled its 12-point plan to resolve the Ukrainian conflict, which included calls for resuming peace talks, condemning unilateral sanctions and upholding the sovereignty and territorial integrity of all nations.
The plan was welcomed by Moscow, which supported the notion of resolving the ongoing conflict through peaceful means. The Kremlin noted, however, that it saw no opportunity for a political resolution to the crisis at the moment.
Meanwhile, Kiev's backers in the West have brushed off Beijing's proposal, with NATO Secretary General Jens Stoltenberg stating that China didn't have "much credibility" in the issue. Western leaders have instead focused on repeatedly warning China against considering supporting Russia's military campaign.
Blinken has stated that such a move would create a "serious problem" for US-China relations and result in Washington sanctioning any Chinese company that violates US sanctions or is "otherwise engaged in supporting" the Russian military operation.
China has rejected claims that it plans to provide any lethal aid to Moscow and has accused the US of hypocrisy and of fueling the conflict in Ukraine by continuing to send billions of dollars worth of weapons to Kiev.
You can share this story on social media: