Pentagon makes prediction on Ukraine conflict timeline
Hostilities may drag on for several more years, with Kiev relying on foreign aid, a senior official has warned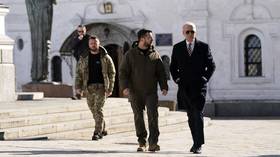 The armed conflict in Ukraine may last for three more years, though predicting the timeline is challenging, a senior Pentagon official has said during a hearing on Capitol Hill.
"We do not know the course and trajectory of the conflict," US Under Secretary of Defense Colin Kahl told members of the House Armed Services Committee on Tuesday. "The conflict may end six months from now, or it may end two years from now or three years from now."
The hearing was being held to look into military assistance to Ukraine, which the administration of President Joe Biden has pledged to provide for "as long as it takes" for the country to prevail. Some lawmakers have criticized what they consider a blank check to Kiev, citing corruption concerns and the cost to American taxpayers.
Rep. Ro Khanna, a Democrat from California, asked Kahl how many more times the Biden administration would ask Congress to open the purse for Ukraine and what the end game would look like. The under secretary replied that it was up to Kiev to decide "what peace settlement" it was prepared to accept.
"Our position has been to make sure that at whatever point they enter those conversations, they do so from a position of strength," he explained.
It is true that "Ukraine continues to depend on assistance from the US" and that will not change "for some period of time," Kahl stated. He said the Pentagon would provide aid, regardless of how the battlefield situation develops.
"Even if the conflict in Ukraine dies down – and nobody can predict whether that will happen – Ukraine is going to need a military that can defend the territory it clawed back" from Russia, the under secretary advised.
The Ukrainian government has declared that the only outcome it will accept is retaking all lands it claims sovereignty over. It also wants Moscow to pay war reparations and for the Russian leadership to stand trial before an international court.
According to US media, the Biden administration is said to have informed Kiev behind closed doors that it cannot indefinitely expect the level of support it has enjoyed so far. Washington reportedly urged Ukraine to prepare for a counteroffensive in the spring and summer, before drawing the conflict down.
Moscow has said it prefers a diplomatic solution to its concerns about NATO influence in Ukraine and radical nationalist elements among Ukrainian troops, but is ready to continue military action due to Kiev's refusal to negotiate. The Kremlin also says Ukraine must recognize the outcome of referendums held in its former provinces, which delivered a result in favor of joining the Russian Federation.
You can share this story on social media: