BP CEO says oil and gas investment good for climate change
Bernard Looney said the transition away from oil and gas must be "orderly"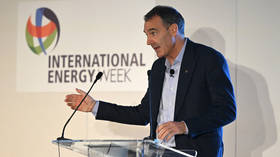 BP CEO Bernard Looney has said more investment in oil and gas is needed in order to ensure an orderly transition away from those same fossil fuels.
The British executive made the pitch on Tuesday during International Energy Week in London amid soaring energy prices and climate protests.
He explained his logic by arguing that reducing supply "without also reducing demand inevitably leads to price spikes," and that "price spikes lead to economic volatility." If that happens, "there's a risk that volatility will undermine popular support for the transition," Looney said.
His proposed solution is to invest in the existing oil and gas system, "as well as investing in the transition" to more climate friendly sources of energy.
As Looney made his pitch, protesters were blocking the entrance to the InterContinental London Park Lane hotel where the energy conference was taking place. Activists held signs reading "Climate Criminals Enter Here," "No new oil," and calling for Looney to be tried in the Hague International Criminal Court.
Earlier this month, OPEC Secretary General Haitham Al-Ghais similarly called for a pause in climate change talks. He argued that the countries chasing green energy needed to slow down and "look at the big picture." They should work "towards an energy transition that is orderly, inclusive and helps ensure energy security for all," he added.
Fossil fuel prices have soared since Western countries imposed unprecedented sanctions on Russia last year in response to the conflict in Ukraine. The restrictions were meant to "punish" and apply pressure on Moscow, as one the world's biggest producers and exporters of oil and natural gas. However, the effect was the opposite, with energy prices in Europe soaring amid limited supply.
In December, Europe again tried to hit Russia's position in the oil market by imposing a price cap on seaborne crude exports from the country. However, an International Energy Agency (IEA) report from earlier this month revealed that these sanctions had merely helped Moscow to find new oil markets, with exports to China reaching a new record high.
You can share this story on social media: