NATO a 'distant prospect' for Ukraine – Stoltenberg
There are more important priorities for Kiev, the bloc's chief said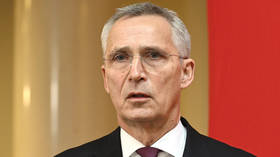 The member states of NATO have already agreed to accept Ukraine into their ranks, but the issue of membership is not a priority at the moment, NATO Secretary General Jens Stoltenberg said on Tuesday.
Speaking to journalists during a visit to Finland, the head of the US-led military bloc noted that although Kiev's membership is welcomed, it is "a distant prospect" because the priority right now is to make sure Ukraine "prevails as a sovereign and independent state."
He also added that after the ongoing conflict between Ukraine and Russia ends, it is necessary to "ensure that history doesn't repeat itself." To that end, the NATO chief insisted that the bloc needs to "strengthen the military capabilities of Ukraine" and establish frameworks that would prevent Russia from launching any more attacks against Kiev.
Finnish Prime Minister Sanna Marin, who spoke alongside Stoltenberg, also proclaimed that the future of Ukraine is to be part of the European Union and NATO and stressed the need to continue providing military aid to Kiev. "The faster and the sooner we can give them more heavy weapons, the sooner the war will end," Marin stated.
Meanwhile, Moscow has once again blasted the collective West for rejecting security talks and insisted that the US and its allies must change their approach to global security and take Moscow's concerns into consideration.
Kremlin spokesperson Dmitry Peskov told journalists on Tuesday that Russia's relations with the US and Europe "changed radically" when Moscow presented its draft security treaties to Washington, Brussels and Vienna in late 2021, all of whom stated they were "not ready to talk about anything."
Peskov said the US and Europe "could have sat down at the negotiating table" long before the conflict in Ukraine started. "There would have been very complex, positional, sometimes irreconcilable talks, but they would have been under way. But they refused," he said.
Now, NATO is fully involved in the hostilities, "their intelligence is working against us 24 hours a day," and their weapons are supplied to Ukraine for free to shoot at Russia's military and Ukrainian citizens, he said.
"The moment when NATO de facto became a participant in the conflict in Ukraine, the situation changed," the spokesman added. "In fact, the NATO bloc is no longer acting as our conditional opponent, but as our enemy."
You can share this story on social media: