Hong Kong rolls out major change to Covid rules
The special administrative zone of China is seeking to attract renewed tourism and enterprise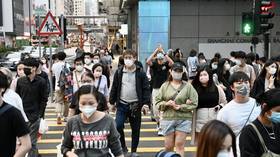 Hong Kong, one of the last major international cities to continue to impose a mask mandate to mitigate transmission of Covid-19, will end the policy on Wednesday, the city's leader John Lee announced at a news conference on Tuesday.
Hong Kong began to withdraw some of its strict pandemic safety measures last year after it had followed the lead of Beijing's zero-Covid policy, but mask-wearing requirements have remained in place for much of the past three years.
However, as one of the world's key financial centers seeks to resume attracting international enterprise and tourism, Lee said that scrapping the mask mandate will provide a boost to economic development in the region.
"The overall risk is under control," Lee, the city's chief executive, said on Tuesday. "It is now a suitable time to fully cancel the mask order.
"We are starting to resume normalcy comprehensively, and that will be very beneficial to economic development, our international competitiveness, as well as our activities which involve everyone in Hong Kong."
Decisions on the wearing of facial coverings in high-risk areas such as hospitals or elderly care homes will be left to local administrators, Lee added of the policy change which takes effect on March 1.
Hong Kong's neighbor Macau said on Sunday that it would be ending the requirement for mask-wearing in many locations, with the exception of similar high-risk areas and public transportation networks. Mainland Chinese citizens are not required to wear masks but are encouraged to do so in busy public indoor areas.
The sweeping policy changes come after the launch of the 'Hello Hong Kong' promotional campaign which is designed to attract tourism and international commerce to the region after both sectors struggled since the start of the pandemic in 2020.
Many local business groups and citizens had expressed criticism of Hong Kong's Covid mandates amid concerns of the negative impact they would have on international competitiveness, as well as to Hong Kong's standing as a global financial hub.
Hong Kong says it received around 500,000 international visitors in January – a figure three times higher than in December.
You can share this story on social media: