Concerns mounting over Ukraine aid – top US official
Both Republicans and Democrats "are starting to question" Washington's support for Kiev, Victoria Nuland noted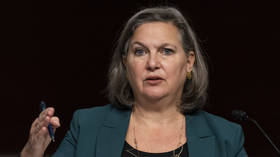 US lawmakers on both sides of the aisle are having second thoughts about providing Ukraine with various types of aid amid its conflict with Russia, US Under Secretary of State for Political Affairs Victoria Nuland acknowledged on Monday.
Speaking during a panel discussion hosted by the US Chamber of Commerce, Nuland was asked to comment on the political split in Washington regarding support for Kiev.
The State Department official attempted to downplay friction on the matter, noting that the US "has contributed more than $30 billion to the security, economic prosperity, and humanitarian situation in Ukraine."
"You can't do that without overwhelming support of both parties in the Congress," she added.
However, she proceeded to admit that "on the fringes of both parties, folks are starting to question, but fundamentally, when you look at how this issue is polling around the country, Americans hate a bully."
According to Nuland, US citizens "understand that if we don't stop this war here, if we don't restore international law and respect for the UN Charter, then this thing [will] just keep going."
Nuland's remarks come as an AP-NORC Center for Public Affairs Research poll released earlier this month found that 48% of Americans support the US providing weapons to Ukraine, with 29% opposed and 22% remaining on the fence. This is a 12% drop compared to a similar poll in May 2022, when 60% of US adults said they favored American military support for Ukraine.
In recent months, some Republicans have repeatedly called for an audit of US aid to Ukraine, with a relevant resolution narrowly defeated in the House of Representatives in early December. However, in early February, a dozen Republicans in Congress put forward the "Ukraine Fatigue Resolution" calling on Washington to end its military and financial aid to Kiev.
According to the Kiel Institute for the World Economy, between January 2022 and January 2023, the US government committed some $77.5 billion to Ukraine, with a sizable part of this sum constituting military aid.
Russia has repeatedly warned the West against arming Ukraine, saying it would only prolong the conflict. On Tuesday, Kremlin Press Secretary Dmitry Peskov said that, by supporting Ukraine, NATO had become fully involved in hostilities between Moscow and Kiev, adding that the US-led military bloc "is no longer acting as our conditional opponent, but as our enemy."
You can share this story on social media: