Brazil ignores US demands
Rio de Janeiro has welcomed the Iranian Navy after a brief delay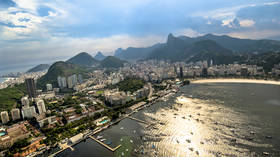 Brazil has allowed two Iranian warships to dock in their country. The visit on Sunday comes after a diplomatic delay and in spite of US pressure.
Iranian warships IRIS Makran and IRIS Dena have docked in Rio de Janeiro, as confirmed by the deputy chief of Brazil's Naval Staff, Vice Admiral Carlos Eduardo Horta Arentz, in the state's Official Gazette (Diário Oficial da União). The ships will remain there until March 4, when they depart further for the Panama Canal that divides the American continent.
The decision comes in spite of US Ambassador to Brazil Elizabeth Bagley's warning Brasilia not to allow the Iranian Navy access to the South American port. She said at a press conference earlier this month that these ships "facilitated illegal trade and terrorist activities." She added that, to date, no other countries have provided a port for these vessels.
The Iranian warships started their journey in January, departing from the south of Iran to circumnavigate the world. Initially, the plan was for Brazil to receive the ships in January, but it was delayed in order to appease the US.
Brazilian President Luiz Inacio Lula da Silva, commonly referred to simply as Lula, was planning his trip to Washington to meet with US President Joe Biden and delayed the ships' entry into his country's port. After the two leaders met earlier this month and, as their joint statement says, "reaffirmed the vital and enduring nature of the US-Brazil relationship," Tehran's ships are once again welcome in Rio.
Lula has a history of relations with the Islamic Republic, welcoming then-president Mahmoud Ahmadinejad in Brasilia in 2009 to try and broker a nuclear deal between Washington and Tehran.
The US and Iran have a longstanding animosity towards each other, dating back to the Islamic Revolution and the 1979–81 hostage crisis. The US is also strongly opposed to Iran's possible nuclear power developments, arguing that they would grant the Middle Eastern country access to atomic weapons. Washington has also accused Tehran of sponsoring terrorism. In 2019, the Pentagon killed one of Iran's most powerful generals – Qassem Soleimani, in an airstrike, an event that only increased the mutual antagonism.
You can share this story on social media: