Musk condemns 'racist' media
The billionaire made the comments in response to reports of the 'Dilbert' comic being dropped by newspapers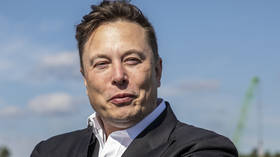 Elon Musk has accused the media en masse, as well as "elite colleges and high schools," of being racist against white and Asian people. The CEO of Twitter, SpaceX and Tesla was commenting on US newspapers severing ties with the author of an award-winning comic strip for making remarks construed as racist on his personal YouTube channel.
"The media is racist," wrote Musk to his near 130 million Twitter followers in a response to tweets about Scott Adams, creator of the 'Dilbert' comic strip.
Adams, who in 1989 created the award-winning strip which lampooned US corporate culture, was dropped by major publishers including the Los Angeles Times, Washington Post and USA Today this week after he referred to black American respondents to a poll as a "hate group".
He was referring to the 26% of black Americans who rejected the phrase "It's OK to be white" in a Rasmussen Reports poll. The term has been defined by the Anti-Defamation League as a "hate slogan" which originated in right-wing circles as a means of undermining various social justice movements in the US.
"For a *very* long time, US media was racist against non-white people, now they're racist against whites & Asians," Musk wrote. "Same thing happened with elite colleges & high schools in America. Maybe they can try not being racist."
Musk added in a response to a subsequent tweet, which purported to highlight a difference in reporting standards between white and black victims of police violence, that it was "very disproportionate to promote a false narrative."
The billionaire, who bought Twitter last year, has become an increasingly divisive figure in recent months, particularly on socio-political issues.
He drew flak for ending Twitter suspensions of controversial accounts, such as those operated by satirical outlet The Babylon Bee, as well as those of former US president Donald Trump and right-wing Republican congresswoman Marjorie Taylor Greene.
However, his authority in discussing racial issues has been questioned by civil rights attorney Brian Levin, who noted that "a white billionaire from South Africa who recently lost a high profile racial discrimination case may not be in the best position to offer counsel."
Musk's Tesla has been sued on several occasions for alleged racial discrimination. A federal court in San Francisco last year ruled that Tesla must pay former employee Owen Diaz damages after it found him to have suffered anti-black racist abuse while working at the company.
You can share this story on social media: