Landmark US military victory slammed as 'evil'
Critics have called for Abrar Omeish to be removed from her post as a school board member in Virginia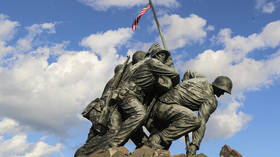 A school board member in the US state of Virginia has ignited a media maelstrom for suggesting that the Battle of Iwo Jima, a key victory for the United States army during World War II, "unfortunately happened" and that it set a record for "human evil."
"Something for us to certainly reflect on as we learn our history and think about it," said Abrar Omeish, who is Muslim, at a meeting of the Fairfax County School Board in Virginia last week in reference to the United States' Japanese Day of Remembrance, which notes the internment of Japanese-Americans in 1942 following the attack on Pearl Harbor.
"The days when, you know, Iwo Jima unfortunately happened and set a record for really, what I hate to say, human evil is capable of," she said.
Omeish's account of the key military win sparked criticism, not least of which from the Fairfax County Parents Association, who questioned why she was "condemning the brave US Marines that invaded Iwo Jima."
"Perhaps she meant to say something else," they added. Other Twitter critics demanded that Omeish step down from her position.
Omeish reacted to the reports by claiming in an email to the New York Post that her comments were directed at the US' policy at the time of the internment of Japanese-Americans, and not the military battle.
The Battle of Iwo Jima is considered to be among the most violent battles of World War II. Fighting for control of airfields more than 600 miles south of Tokyo between US Marines and the Imperial Army of Japan lasted for five weeks in 1945. It resulted in the deaths of nearly 7,000 members of the US military, as well as the vast majority of the 18,000 Japanese soldiers stationed there.
Omeish was criticized last year when she voted against a resolution to honor victims of the September 11th terrorist attacks in the United States.
She claimed that doing so would ostracize Arab-Americans, American Muslims, Sikhs and Hindus "and all brown or other individuals that have been mistaken for Muslims since that day over the past two decades."
Omeish's father, Dr. Esam Omeish, is a founding member of an Islamic Center in Virginia that was previously under the authority of Anwar Al-Awlaki, an American imam who was reportedly radicalized and subsequently killed in a US drone strike in Yemen in 2011.
You can share this story on social media: