Chelsea boss reveals death threats
Graham Potter has overseen a poor run of results at Stamford Bridge despite the club's mammoth spending spree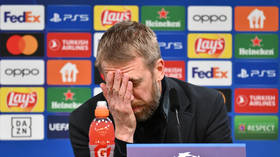 Graham Potter, the manager of Premier League giants Chelsea, told the media on Friday that he and his family have received anonymous death threats amid the club's recent run of poor form.
Chelsea have won just two of their past 14 games despite spending upwards of $600 million on players during the past two transfer windows – with last weekend's 1-0 home defeat to bottom-of-the-league Southampton met with a cacophony of jeers from the Stamford Bridge faithful.
"People have a perception I don't care," Potter said, addressing the media at a news conference on Friday ahead of Chelsea's clash with London rivals Tottenham on Sunday.
"What's that based on? How do you know? You could ask my family how life has been for me and them," he explained. "It's not been pleasant at all. I've had some not particularly nice emails come through, that want me to die and want my kids to die. That's obviously not pleasant to receive."
Potter was hired as Chelsea manager in September to replace UEFA Champions League winner Thomas Tuchel at the request of chairman Todd Boehly – the US businessman who completed a takeover of the club last May from its former owner Roman Abramovich.
The Englishman was considered to be one of the most highly rated young coaches in English football when he arrived at Chelsea from his former side Brighton. Despite the poor start to his tenure, however, he said his problems pale in comparison to the real-world issues being met by many.
"Life is tough for a lot of people," he said. "No one really wants to care about Premier League managers. Sometimes life isn't fair. It's not like I'm complaining about it. You ask me 'Is it hard?' I say 'Yes, it is hard.' You suffer. You get upset. When you're in private, you show real emotion with your family.
"There's a point to be considered, but the world is tough. We're going through an energy crisis, a cost-of-living crisis. People are striking every other week. No one wants to hear about the poor old Premier League manager."
Potter and Chelsea will have an opportunity to arrest their downward slump on Sunday when they take on rivals Tottenham in a pivotal Premier League clash for both sides – but another poor result and the disquiet in the stands at Stamford Bridge will likely increase by decibels.
You can share this story on social media: