Men held at Guantanamo since 2004 without charges released
Two Pakistani brothers claim they were tortured while being kept at the notorious US prison camp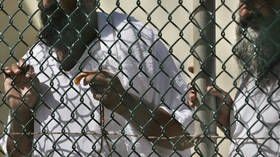 The US has freed two Pakistani brothers after holding them without charges for two decades at the Guantanamo Bay detention camp in Cuba. Abdul and Mohammed Rabbani claim that they were tortured while in CIA custody.
The Pentagon announced on Thursday that the men had been repatriated to Pakistan. Both were approved for release in 2021, and it remains unclear why they remained at the facility until now. Pakistani Senator Mushtaq Ahmad Khan confirmed on Friday that the brothers, both of whom are in their 50s, had reached Islamabad Airport.
"They were innocently imprisoned in Guantanamo Bay," he wrote on Twitter. "There was no trial, no court proceedings, no charges against them. Congratulations on their release."
The prison camp at Guantanamo Bay was opened by President George W. Bush's administration in 2002, with the White House invoking wartime powers to hold foreign civilians there without trial. Around 780 people passed through the facility, and allegations of inhumane conditions, torture, and other physical and psychological abuse of prisoners were rife.
The Rabbani brothers were arrested by Pakistani authorities in 2002 and handed over to the CIA, before being transferred to Guantanamo in 2004. They were accused of providing low-level logistical support to Al-Qaeda, which both denied and was never proven.
The US Senate's 2014 torture report described the arrest and detention of both men at length, noting that Pakistani authorities mistook Mohammed – who also went by the name 'Ahmed' – for a wanted terrorist named Hassan Ghul. Mohammed spent more than a year after his arrest being tortured at a CIA 'black site' in Afghanistan. The 2014 report describes how he spent long periods shackled with his hand outstretched over his head, an agonizing position that led him to attempt to cut off his own hand.
Rabbani's case garnered international attention, and he wrote an op-ed for the Los Angeles Times in 2018 in which he described being subjected to force-feeding during hunger strikes to protest the conditions of his imprisonment, and alleged that other inmates were sexually abused by guards.
US President Joe Biden has said he plans to close Guantanamo Bay by the time he leaves office, a promise that was made and broken by his former boss, President Barack Obama. There remain 32 detainees at the prison, of whom 18 are awaiting transfer to other countries, three eligible for parole, nine involved in military tribunals, and two convicted of crimes.
You can share this story on social media: