Alex Jones claims DOJ wants his cat
The political performance artist says the government has threatened to confiscate the $2,000 feline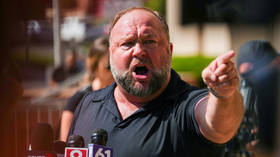 The US Justice Department may seize political provocateur Alex Jones' ragdoll cat Mushu, Jones told his followers in a video posted to his wife Erika Wulff Jones' Twitter on Thursday, claiming he had been interrogated about the feline and its value during a bankruptcy hearing.
Jones insisted the authorities had spent a full five minutes questioning him about the cat, telling his followers "they wanted to know if assets were hidden in the cat." He spoke while stroking the two-year-old feline, who was named by his daughter.
While admitting Mushu was on the pricey side – "like $2,000," he acknowledged, qualifying that it was an expensive ragdoll breed – he put his foot down at the idea that "they may want the cat for the Sandy Hook families."
"The deal is broke. You aren't getting the cat," the Infowars founder declared, marveling "this is next level. This is harassment" and insisting "no one has ever heard of this. My lawyer has never heard of this." The questions about the cat were "not a joke," he added, reiterating, "The line in the sand is, you cannot have my cat."
What, do you want my children next? You want to sacrifice my children or something?
Jones filed for bankruptcy protection in December after a defamation lawsuit by the families of children killed in the Sandy Hook Elementary School shooting left him owing nearly $1.5 billion. His company Infowars and its parent Free Speech Systems also filed for bankruptcy protection last year.
Despite Jones' alleged bankruptcy, a Texas court filed papers earlier this month claiming he spends nearly $100,000 monthly and has $10 million in assets – including three properties in Austin, Texas, a plot of land, three cars, two boats, two guns, "lifetime access to helicopter service"…and a cat.
The media personality was ordered by a Connecticut court to pay hefty punitive damages after the Sandy Hook families sued him for making false statements about the 2012 shooting on his news program. While Jones has since recanted his earlier claims, he initially espoused the theory that the families and emergency personnel on the scene were merely "crisis actors" and the whole massacre was staged in order to trick Americans into relinquishing their Second Amendment right to own firearms.
You can share this story on social media: