US watchdog's own figures undermine its extremism claims
A report by the ADL blaming right-wingers for mass killings has shown a sharp decline in deaths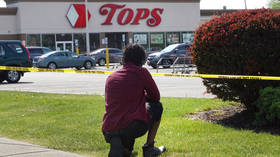 A report by the Anti-Defamation League (ADL) released on Thursday purporting to show a rise in US mass killings by domestic extremists – particularly those motivated by "right-wing" ideology – has instead revealed a downward trend in such murders over the past several years.
The number of US killings linked by the ADL to domestic extremism dropped to 25 in 2022, the third decline in the past four years, according to the report. In fact, the number of deaths annually has averaged 26.7 since 2020, down by more than half from the rate of 60.2 such murders per year from 2015 through 2019.
Nevertheless, the ADL claimed, "It is not an exaggeration to say that we live in an age of extremist mass killings." The anti-discrimination group apparently based that claim on its assertion that there were 21 mass killing incidents linked to extremism in the 2010s, at least three times the total for any previous decade dating back to the 1970s.
The group blamed right-wing extremists for 61.5% of the mass killing incidents in the past 12 years, including all such murders that it recorded in 2022, and said Islamists accounted for 23.1%. "Of particular concern in recent years are shootings inspired by white supremacist accelerationist propaganda urging such attacks."
Those claims dovetail with assertions by the FBI that white supremacists are the top domestic terrorism threat in the US. The agency has also said the domestic extremism threat is rising rapidly, citing such incidents as the US Capitol riot in January 2021.
However, the ADL has been accused of falsely linking some mass murders to right-wing extremism. For instance, the group categorized the 2018 Parkland school shooting in Florida as right-wing violence, even though there was no evidence of political motivation and the perpetrator said he chose Valentine's Day for the massacre "because I thought no one would love me."
More recently, the ADL attributed last November's deadly Club Q shooting in Colorado Springs, Colorado, to right-wing extremism, even though the suspect reportedly identifies as nonbinary and uses "they-them" pronouns. The group has been criticized in the past for linking murders to extremism when the motives were unrelated, including a 2015 domestic violence case and incidents involving white supremacists killing each other, such as in a 2006 drug-related killing.
You can share this story on social media: