Russia hit with fresh sanctions
The new measures from Australia, New Zealand, and the UK coincide with the one-year anniversary of Russia's military operation in Ukraine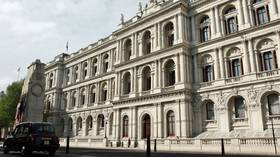 Australia, New Zealand, and the UK have simultaneously unveiled new rounds of sanctions against Moscow. Russia's defense, industrial, and banking sectors were targeted, with London also banning the export of "every item Russia is using on the battlefield."
Australia's sanctions impose travel bans on 90 Russian individuals, while blacklisting five defense manufacturers, including Kalashnikov Concern and aviation giant Tupolev. In announcing the sanctions, Prime Minister Anthony Albanese added that Canberra would send an unspecified number of surveillance drones to Kiev.
New Zealand sanctioned 87 Russian "political actors" and their entire families, including members of Russia's Central Election Commission, which oversaw the referenda that saw four former regions of Ukraine overwhelmingly vote to join the Russian Federation in September. A number of military commanders were also added to New Zealand's blacklist.
In the UK, Prime Minister Rishi Sunak's government sanctioned 92 individuals, including senior executives in the nuclear power industry, executives from two defense firms and four banks, and other "Russian elites."
Business and Trade Secretary Kemi Badenoch also announced that the UK would ban the export of "every item Russia has been found using on the battlefield to date," including aircraft parts, radio equipment, and electronic components that can be put to military use.
Russia sent troops into Ukraine on February 24, 2022, with President Vladimir Putin vowing to demilitarize and neutralize the country, while protecting the Russian-speaking majority in Donetsk and Lugansk. In the year since, Russia has become the most-sanctioned country in the world.
Despite Western leaders' insistence that these sanctions "are working," as Badenoch said on Friday, Russia's economy contracted by only 2.1% last year, far less severely than the 11.2% predicted by the World Bank in April. With energy revenue higher than before the conflict began, Russia's economy is predicted to grow faster than the UK's this year.
The US also announced a new round of sanctions against Russia on Friday, raising import levies on more than 100 Russian metals and restricting exports to 90 Russian companies. In Brussels, EU leaders were unable to agree on a tenth sanctions package on Thursday. Talks resumed again on Friday.
You can share this story on social media: