US expands probe of cancer risks at ICBM bases
The Air Force has pledged to conduct a comprehensive assessment of a possible link between missile jobs and lymphoma cases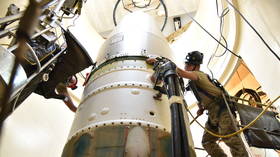 The US Air Force has launched an investigation of cancer risks for service members at the country's intercontinental ballistic missile (ICBM) installations, formalizing and expanding a probe that was spurred by a report last month of lymphoma cases among missileers who had worked at a Montana base.
General Thomas Bussiere, commander of US ICBM forces, approved a comprehensive study of cancer risks at missile bases in Montana, Wyoming and North Dakota, the Air Force announced on Wednesday. A US Space Force officer reportedly revealed last month that 36 missileers who had been stationed at Montana's Malmstrom Air Force Base as far back as 25 years ago had been diagnosed with cancer, including ten cases of non-Hodgkin lymphoma (NHL).
"Air Force Global Strike Command and our Air Force takes the responsibility to protect airmen and [Space Force] guardians incredibly seriously, and their safety and health continues to be my priority," Bussiere said in a statement. "We also continue to be committed to remaining transparent during this process and we pledge to continue to maintain an open dialogue with members, their families and stakeholders throughout this process."
US Senator Jon Tester, a Montana Democrat, said NHL cases among former missileers appear to be far higher than the national average. He noted that only around 400 airmen work in Malmstrom's 150 Minuteman III missile silos. NHL is considered a rare cancer in the US, with an average of just 19 new cases diagnosed annually per 100,000 people. The former airmen are well below the median diagnosis age of 67, he added.
Missileers can be exposed to a variety of toxins and chemicals, such as radon, asbestos, lead and polychlorinated biphenyls. Health concerns date back to well before the Minuteman era. Military.com noted that from 1975 to 1979, there were 125 leaks of propellant from Titan II missiles at bases in California, Arizona, Arkansas, and Kansas. One such leak killed two airmen and forced the evacuation of a small Kansas town.
The Air Force Medical Service (AFMS) said an investigation of cancer concerns at Malmstrom in 2001 found no increased rates of NHL among missileers. "However, we acknowledge time has passed," the AFMS said, adding that it has a responsibility to re-examine possible health risks to service members.
You can share this story on social media: