Possible cause of Ohio train crash revealed
A wheel bearing overheated moments before the train derailed, causing a hazardous chemical spill, a preliminary NTSB report says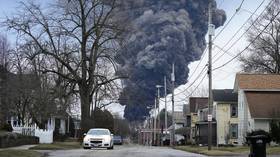 A faulty wheel bearing may have been responsible for the derailment of a train carrying toxic vinyl chloride through East Palestine, Ohio, earlier this month, a preliminary US government report has found. The resulting chemical spill has reportedly killed livestock, fish, and pets.
Released on Thursday, the report from the National Transportation Safety Board noted that a trackside detector transmitted an alarm message to the train's crew as they passed through East Palestine on February 3. The detector flagged that one of the bearings on the first carriage to derail was some 253 degrees Fahrenheit (112 Celsius) higher than ambient temperature.
The train engineer had already been decelerating, but slowed the train and brought it to a stop with the assistance of an automatic emergency brake after receiving the alarm. When the crew noticed fire and smoke coming from the 23rd car of the 149-car train, they moved the locomotive to safety a mile away and alerted the authorities.
Some 38 cars derailed in total, with 11 of them carrying toxic chemicals. As the temperature of one intact tank of vinyl chloride began to rise, the report states that the responders decided to carry out a controlled burn of the chemicals to avoid a possible explosion. Five tanks of vinyl chloride – 115,580 gallons – were burned this way.
The report did not conclusively blame the derailment on the defective bearing, nor did it suggest that venting and burning the vinyl chloride was the correct course of action. The NTSB's investigation is ongoing, and further reports are expected.
As a cloud of dense and toxic smoke rose over the town, locals in East Palestine criticized President Joe Biden for refusing to issue a disaster declaration. While Biden sent Environmental Protection Agency and Health and Human Services officials to the location to declare it safe, residents have complained of rashes, nausea, and headaches, as well as dead pets, livestock and fish.
With President Joe Biden in Ukraine and Poland this week, former president Donald Trump visited East Palestine on Wednesday, where he praised local emergency workers and handed out food and water. Transportation Secretary Pete Buttigieg – who initially blamed the crash on Trump-era railway deregulation – traveled to the scene on Thursday.
You can share this story on social media: