ISIS women force boys to impregnate them – media
Female detainees in Syrian camps have reportedly used teen males as sex slaves to help populate the so-called Caliphate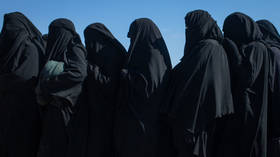 Women ISIS devotees held in Syrian detention camps have forced boys as young as 13 to serve as sex slaves to impregnate them and help boost the population of the "Caliphate," the Daily Beast reported on Thursday.
At least ten boys at Camp al-Hawl in northeast Syria were conscripted to have intercourse with dozens of women, the US media outlet said, citing unidentified Syrian Defense Force (SDF) officials. The Syrian government has detained about 8,000 ISIS-affiliated women and children since the terrorist group's defeat in 2019. Adult male ISIS members are held in separate camps.
"We are being forced to have sex with the ISIS women, to impregnate them," two teens identified as Ahmet, 13, and Hamid, 14, told a guard at Camp al-Hawl. "Can you get us out of here?" One of the boys was required to have sex with eight ISIS women in just a few days.
Security forces confirmed that teen boys at Camp al-Roj, also in northeastern Syria, had been subjected to similar exploitation, the Daily Beast said. In fact, one of the boys collapsed and was hospitalized after being given a Viagra-like substance to make him perform. Mothers at al-Roj, seeking to protect their sons from sexual enslavement, have begged camp authorities to transfer their boys to rehabilitation centers.
Syrian defense officials have recently adopted a policy of moving boys who have reached puberty to such rehabilitation facilities, where they receive anti-extremism counseling and are prepared for reintegration into society. The United Nations decried the policy last week, calling it "unlawful" and suggested that they may be "forcibly disappeared" or sold.
Many of the ISIS women have refused repatriation to their home countries for themselves and their children. Others, such as "ISIS bride" Shamima Begum of the UK, were stripped of their citizenship and barred from returning.
SDF officials said many women have become pregnant in the camps, though the Damascus government doesn't know the exact number. Some give birth in secret with hopes of boosting the population of the Islamic State, which they believe will be re-established when their men arrive to break them out of the camps.
You can share this story on social media: