Helicopter with Iranian sports minister crashes
His adviser was killed, while other people on board sustained injuries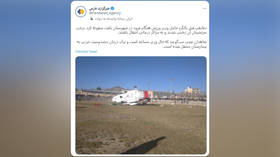 A helicopter carrying Iranian Sports Minister Hamid Sajjadi crashed while landing in the southern part of the country on Thursday. According to local authorities, the minister's adviser was killed in the crash, while the top official himself, as well as other passengers and crew members, sustained minor injuries and has been taken to the hospital.
The accident took place while the aircraft was landing at the sports complex in the city of Baft. Local governor Mohammad Mehdi Fadakar said that the aircraft had 12 passengers on board.
Citing an eyewitness, the IRNA news agency reported that Sajjadi appeared to be in "good condition." Meanwhile, his adviser, Esmail Ahmadi, died in the crash.
Photos and videos released by local media outlets show a helicopter turned over on its roof, with no signs of fire or smoke. The helicopter also seems to have lost its trail. Other pictures show a sizable crowd not far from the aircraft's wreck, as well as emergency services vehicles parked nearby.
You can share this story on social media: