Journalist killed while covering homicide investigation
A news reporter and nine-year-old girl were slain in a series of shootings in Florida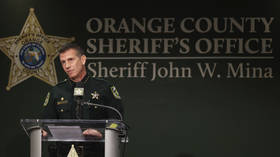 A Spectrum News 13 journalist was killed in central Florida on Wednesday while reporting from the scene of a murder that occurred earlier that day. The tragedy took place during a string of shootings, in which three people, including a little girl, were killed and two were wounded.
Police initially responded to a shooting in the Pine Hills area, northwest of Orlando, where a woman in her 20s was killed. News crews arrived at the crime scene to cover the homicide investigation.
According to witnesses, cited by the Associated Press, at some point later that day a gunman approached the news vehicle and opened fire at reporters. One journalist was killed and another was hospitalized in critical condition.
The gunman then fatally shot a nine-year-old girl at a nearby home and wounded her mother, who also remains in critical condition, according to reports.
Police detained a 19-year-old man named Keith Melvin Moses who they suspect of committing all three shootings. Orange County Sheriff John Mina said Moses has "a lengthy criminal history," including gun charges, as well as charges of burglary, aggravated battery, assault with a deadly weapon, and grand theft.
The suspect's motives are still being determined, Mina said. According to the sheriff, Moses knew the first victim, a woman in her 20s, but had no apparent connection to the other victims.
"We are deeply saddened by the loss of our colleague and the other lives senselessly taken today," Spectrum News 13 said in a statement. The TV channel later identified the slain reporter as 24-year-old Dylan Lyons.
White House spokeswoman Karine Jean-Pierre offered condolences to the victims and their families. "Too many lives are being ripped apart by gun violence," she wrote on Twitter.
You can share this story on social media: