US to extradite former Peruvian president – Lima
Alejandro Toledo allegedly took nearly $32 million in bribes from a Brazilian construction firm while in office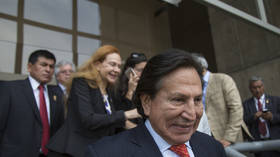 The US State Department has agreed to extradite former Peruvian President Alejandro Toledo back to his homeland to face corruption, collusion, and money-laundering charges, Lima's attorney general's office revealed on Tuesday via Twitter. He could be sentenced to as many as 20 years and six months in prison.
Toledo stands accused of taking nearly $32 million in bribes from Brazilian construction company Odebrecht while serving as president between 2001 and 2006 in exchange for handing the firm a lucrative contract to build two sections of the massive Interoceanic Highway project connecting southern Peru and Brazil. The charges are part of the sprawling Lava Jato (Car Wash) probe.
Toledo has been informed of the State Department's decision, Lava Jato special prosecution coordinator Rafael Vela told news outlet RPP Noticias on Wednesday, allowing him to voluntarily surrender himself to the Peruvian authorities. He has no appeals left, Vela pointed out, explaining that "the debate is exhausted" and "only the completion of said decision is pending."
Toledo continues to deny his guilt. He has not been criminally charged in the US and is living in California, where he is under electronic monitoring by ankle bracelet.
The former president was arrested in 2019 after a US judge approved Lima's 2018 extradition request, on the grounds that "sufficient" evidence of his criminality had been established. He was released on bail in 2020 and placed under house arrest. A Peruvian judge in 2017 kicked off the process by ordering Toledo's international capture, as well as a preventative 18-month detention.
Odebrecht admitted years ago as part of a plea deal that it had paid out nearly $800 million in bribes to governments all over Latin America. The Lava Jato investigation is the largest in Brazilian history, spilling over into most of South and Central America, and has resulted in nearly 280 convictions as of 2021 – perhaps most notably Brazilian President Luiz Ignacio Lula da Silva, who was recently re-elected to run the country once again after serving time in prison.
Former Peruvian President Pedro Pablo Kuczynski is under investigation for alleged money laundering concerning Odebrecht and two other ex-presidents have been investigated or detained. Former president Alan Garcia was facing arrest on related charges when he committed suicide in 2019.
You can share this story on social media: