Some US states want to bring back child labor instead of giving adult workers better pay
Teenagers could join the workforce to fill thousands of vacant jobs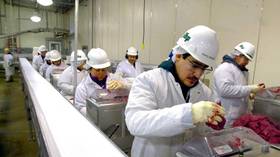 Amid an ongoing push for higher wages by US workers, including union-building efforts and a national railway strike that was averted last December, some states are finding ways to undercut the working class.
One method, as Business Insider reports, is for the US to start allowing children aged 14-17 into the workforce. The federal government has said this practice is already increasing in an illicit fashion, too.
In the last month, Republican lawmakers in Iowa and Minnesota have introduced legislation that would allow exceptions to existing child labor regulations. This is aimed at ameliorating the ongoing labor shortage in the US, which is also plaguing other countries, predominantly in the West.
According to Business Insider, the State of Minnesota "lost 90,000 workers alone during the pandemic, according to state demographers, making it one of the tightest labor markets in the country. Iowa's not far behind with roughly 75,000 open jobs in December." The proposed bills in these states would allow children to work more hours and "protect employers from liabilities due to sickness or accidents," which could help specific industries like construction and meatpacking that are being hit hard in these states.
The federal government also created a new rule in January allowing people wishing to be professional truck drivers to obtain their Commercial Driver's License (CDL) at the age of 18 instead of 21. This was done because, as CNN reports, "the head of the American Trucking Associations said the industry needed about 80,000 more drivers." The proposal was initially presented by the Federal Motor Carrier Safety Administration in 2020.
Safety advocates immediately called the initiative out, saying that inexperienced drivers could put the public at risk, which is perhaps a more salient issue after the East Palestine, Ohio train disaster. That issue is also primarily related to both deregulation and workers' rights, as the workers of Norfolk Southern (along with others) were pushing for higher pay, sick leave and more modern braking equipment.
Essentially, corporate-backed politicians in states across the country are seeking to solve the worker shortage by tapping children and not by offering more attractive pay or benefits. This initiative would target children in shaky economic situations, e.g., the kind of kids who need to work a job and don't have parents who can afford to give them money. The ethical concerns here are enormous.
First of all, US students lag behind peer countries in key metrics. As Pew Research found in a 2017 article, the country's students "continue to rank around the middle of the pack, and behind many other advanced industrial nations." If the US economy has any hope of surviving in the future in its current iteration, and as an innovation powerhouse, it needs its students to perform better in subjects like math and science. Keeping students in the classroom and doing their homework, and not participating in the workforce, is a key component to improvement in this area.
There are also safety concerns at play here. Minnesota wants to see 16 and 17-year-olds allowed to work in construction, which can be a dangerous job. Iowa wants to see even younger children allowed to work in their meat-packing plants, which, at the height of the nation's coronavirus outbreak, saw high caseloads and deaths. It was reported that managers from an Iowa Tyson Foods plant were fired after they were caught betting on which of their employees would contract Covid-19. Children should not be subject to these kinds of abuses and the federal government has already noted an increase in illegal child labor practices, as well as associated injuries.
Finally, the main problem here is that the proposed bills undermine workers' ability to organize for better pay. The worker shortage has allowed a unique opportunity for workers to leverage labor scarcity for increased wages and benefits. Expanding the workforce to include more teenage children, would kneecap those already in their positions and hinder their chances of getting the pay they deserve.
This is just another example of the abject moral depravity of corporate America and its ability to exploit each and every American for every drop of profit it can muster. If these bills are indeed passed, it will usher in a cascade of similar legislation in Republican-led states across the country, and show, once again, how useless American "democracy" is. Politicians are bought and paid for by employers and their lobbyists, as demonstrated by the Iowa and Minnesota bills.
The answer to the labor shortage is not to harken back to 19th-century child labor norms but to give workers a fair wage, decent working conditions, and basic dignity. It is a lack of these exact things that have, in part, driven the mass exodus of Americans from menial jobs in hopes of finding more lucrative opportunities. They deserve the right to do so, especially if the employers of blue-collar jobs are so unprincipled in utilizing child labor.
The statements, views and opinions expressed in this column are solely those of the author and do not necessarily represent those of RT.
You can share this story on social media: