Biden reacts to Russia suspending nuclear treaty
Moscow's decision on New START is a "big mistake," the US leader has said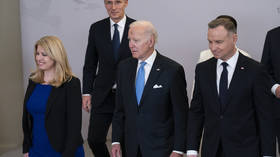 US President Joe Biden on Wednesday disapproved of Moscow's decision to suspend the last remaining nuclear arms control treaty between the two powers. In a speech to lawmakers the day prior, Russian President Vladimir Putin said the move was in response to "unacceptable" and cynical moves by the West.
Biden was wrapping up his visit to Ukraine and Poland with a photo-op in Warsaw when one of the reporters shouted a question about the treaty.
"I don't have time," the US president said at first. Pausing, he said, "big mistake."
The Strategic Arms Reduction Treaty, known in the US as 'New START' and in Russia as 'SNV-III', was originally signed in 2010. Biden had agreed to extend it through 2026 during his first week in office. The US had previously withdrawn from the INF and Open Skies treaties, leaving New START as the last arms control agreement standing.
Addressing the Russian legislature on Tuesday, Putin said Russia would be "suspending its membership" in New START, but not withdrawing from the treaty. He accused the US of trying to "refashion the international order to suit exclusively its own needs and selfish interests," demanding that Moscow abide by treaties such as New START "while they will do as they please" and Western leaders publicly make statements about "inflicting a strategic defeat" on Russia.
"This is either the height of hypocrisy and cynicism, or the height of stupidity, but they are not idiots. They are not stupid," the Russian leader said.
Putin pointed out that NATO – which is not even a party to New START – had made "absurd" demands to inspect the Russian nuclear deterrent, even as the US-led bloc was openly aiding Ukraine in carrying out drone attacks against strategic aviation bases that host atomic weapons.
Before Moscow can return to the table, Putin said, it must have "a clear idea" of NATO's nuclear arsenal – including the UK and France, who are welcome to join the treaty.
"Come onboard, we do not mind. Just try not to lie to everyone this time and present yourselves as champions of peace and detente. We know the truth," the Russian president said.
In August 2022, Moscow suspended the New Start inspection regime, saying US sanctions had prevented Russian inspectors from doing their job, giving Washington an unfair advantage. Technical talks on resuming the inspections, scheduled for the end of November in Egypt, were postponed indefinitely. Russia said there was no point in talking to the US while Washington was sending billions of dollars worth of weapons to Ukraine.
You can share this story on social media: