Russia, China and South Africa launch joint military drills 
Naval ships from the three countries are set to conduct artillery firing exercises in the Indian Ocean, Moscow has announced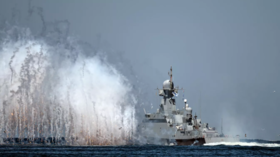 The trilateral 'Mosi II' drills officially kicked off in the South African port of Richards Bay on Wednesday, according to the Russian Defense Ministry. Frigates from the Russian, Chinese, and South African navies are set to carry out artillery drills in the Indian Ocean over the weekend.
The opening ceremony was overseen by top officials and commanders from the Russian Navy, Chinese Naval Forces and South Africa's Joint Command. The exercises will also be observed by representatives of Brazil's naval forces.
Russia will be represented in the drills by the frigate Admiral Gorshkov and the medium sea tanker Kama. China has sent its frigate Rizhao, destroyer Huainan and supply vessel Kekesilihu. The South African Navy will deploy friagte Mendy.
"The active part of the exercise will take place from February 25 to 27. Joint artillery firing and tactical maneuvering will be carried out at sea. Sailors of the three countries will work out the actions of inspection teams to search and release a captured ship, provide assistance to a ship in distress, and repel enemy air attacks," a statement from the Russian Defense Ministry's press service read.
Speaking to the audience attending the opening ceremony on Wednesday, the commander-in-chief of the Russian Navy, Admiral Nikolay Evmenov, stated that "the Russian navy is deeply interested in strengthening naval cooperation between Russian, Chinese and South African sailors."
The three nations conducted similar exercises in 2019. This time, however, South Africa has faced criticism for participating in the drills. The Democratic Alliance, an opposition party, has claimed that the move suggests the country has sided with Russia in the conflict in Ukraine. The government, however, has defended its position by noting that it also routinely engages in naval exercises with other nations such as France and the US.
You can share this story on social media: