Pentagon issues poppy seeds warning
An official memo notes that the plant can trigger a positive drug test due to containing higher levels of the opiate codeine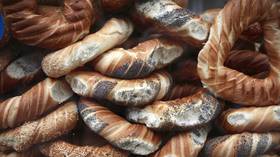 US military service members should avoid "all consumption" of poppy seeds in all their forms due to the possibility they will yield positive drug testing results, the Pentagon warned in a memo to the secretaries of the military departments published on Tuesday.
While acknowledging that "concerns with poppy seeds and drug testing are not new," Undersecretary of Defense for Personnel and Readiness Gilbert Cisneros revealed that "recent data" had shown the seeds had "higher codeine contamination than previously reported." Poppy seeds come from the opium poppy, the same plant species used to manufacture narcotic painkillers such as morphine and codeine, and are often contaminated with small amounts of opium extract when harvested.
"Consumption of poppy seed products could cause a codeine positive urinalysis result and undermine the Department's ability to identify illicit drug use," Cisneros wrote in the memo.
"Out of an abundance of caution, I find protecting Service members and the integrity of the drug testing program requires a warning to avoid poppy seeds," he continued, promising to "revise this policy accordingly" as more data became available. Department secretaries were instructed to impose a ban on "food products and baked goods containing poppy seeds" on their underlings indefinitely.
The US military has faced a recruitment crisis in recent years as the pool of those qualified to serve continues to shrink. Recent statistics show that obesity and other medical conditions, psychological problems, and criminal records – including a history of drug use – have rendered more than 70% of young American adults ages 18 to 24 ineligible for military service without a waiver, according to a report from the veterans' advocacy organization Mission: Readiness Group.
At the same time, military leaders testified last year that only one in 11 eligible Americans actually wants to serve.
Some Army recruiters are now reportedly considering opening their doors to cannabis users, given that more than 93% of 19-25 year olds have some kind of access to a legal form of the drug and 30% of young adults under 30 have acknowledged smoking it – an admission which in itself requires a waiver.
While opioid use among young adults is less common, that age group is the biggest abuser of prescription opioid painkillers, according to the National Institute of Drug Abuse, which stated in a recent publication that 12% of 18-25 year olds had misused prescription drugs in the past year.
You can share this story on social media: