Dmitry Trenin: One year on, here's how the Ukraine conflict is changing the world order
The West's failed Ukraine strategy has empowered the Global Majority to reject US domination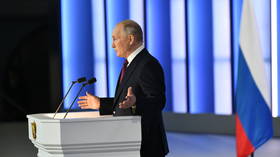 In his recent landmark address to Russia's parliament, President Vladimir Putin cited the war in Ukraine and US/NATO involvement in the conflict as the main reason for his decision to "suspend" Moscow's participation in the 2010 New START Treaty on strategic nuclear weapons. Putin also suggested that Russia should be ready to resume nuclear testing.
Effectively, this announcement, promptly turned into law by the Russian parliament, means a formal end to the long-ailing institutions of strategic arms control that began over 50 years ago. If New START is followed by the CTBT (Comprehensive Test Ban Treaty) and then the NPT (Non-Proliferation Treaty), strategic deregulation will be complete. Putin's logic is that the United States cannot be allowed to inspect Russian missile bases while at the same time pursuing a policy of "strategically defeating" Moscow in Ukraine.
The Kremlin's decision was anything but a bolt from the blue. The proxy war in Ukraine came as the culmination of a decade-and-a-half-long process of steady deterioration of Russian-American and Russian-EU relations. Ever since it became clear – somewhere in the mid-2000s – that Russia would not fit into the US-dominated order, and that Washington, and its, allies would not let Russia sign up on terms that Moscow would find acceptable, the trajectory of the relationship has generally pointed toward confrontation.
True, there was a brief period, which coincided with the presidency of Dmitry Medvedev (2008-12), which witnessed, besides the signing of New START, an attempt to build a strategic partnership between Russia and NATO and modernization and technology partnerships between Russia and key Western countries, including the US and Germany. That attempt, however, turned out to be the last hurrah of the efforts to integrate Russia into, or at least with, the West following the end of the Cold War.
Essentially, while Moscow was looking for equal and indivisible security, as well as technology and business opportunities, Washington and Berlin were mostly interested in softening and diluting Russia's domestic political regime. There was also no question of treating Russian security concerns about NATO's enlargement seriously: Moscow had to accept the post-Cold War order in which it no longer had a decisive voice. That mismatch of key goals could not last long. Already by 2011-12, the outlook for Russia-West relations could be summarized as something like: it will get worse before it gets worse.
Right now, we are still on the same trajectory – things can become even more grim than they are now.
Hopefully, the credible threat of complete annihilation – the heart of nuclear deterrence – will still protect us from the very worst outcome, but the changes wrought by the Ukraine war on the global strategic landscape during its first year are indeed massive. Strategic deregulation between Moscow and Washington has already been highlighted. In practice, this will mean that each party will be free to build, structure, and deploy its strategic forces as it sees fit, and rely on its own so-called national technical means – such as spy satellites and other forms of intelligence – as the prime source of information about the other. It is natural to expect that under such circumstances both parties would have a powerful incentive to engage in worst-case-scenario planning.
It is true that of the five 'established' nuclear powers and the four other countries that possess nuclear arms, only two – America and Russia – have historically engaged in nuclear arms control. For years, Washington sought to find ways to link Beijing to the US-Russia strategic dialogue, thus leading to a tripartite arrangement. China, which was never interested in the US offer, is now believed to be in the process of substantially expanding and improving its strategic nuclear forces. Whether and when Beijing will be ready to engage Washington in strategic arms talks is anyone's guess. After the the US formally designated China as its principal adversary, Sino-American relations have been growing increasingly tense. In any event, managing a strategic equation among the three leading nuclear powers, one of which regards the other two as its adversaries, will now become more difficult.
Strategic deregulation is not just the absence of binding treaties. It is also likely to mean the unraveling of the conceptual framework for arms control, which was originally developed by the Americans in the 1960s and then accepted by the Soviet Union. Any future arrangements among the world's nuclear powers – whenever it comes – will require a wholly new concept that might be based on the agreed-upon and mutually fitting elements developed by the participating countries, with their vastly different strategic environments and cultures. It will certainly be a most daunting task.
Putin's angry reaction to NATO's call for Russia to observe New START and let US inspectors in has opened up another relatively minor issue: the nuclear weapons of Britain and France. The Soviet Union had long insisted on including those two countries' nuclear arsenals in the US ceilings, and only relented during Gorbachev's perestroika. With Paris and London taking an active role in the proxy war in Ukraine, Moscow is no longer pretending that UK and French nuclear forces are there solely to defend their own countries. They are seen as part of the combined arsenal of the adversarial, US-led West. This is no big deal for the moment, but any conceivable future arrangement would have to address the issue of the Anglo-French forces.
In geopolitical terms, the war in Ukraine energized Washington to build a global coalition to oppose Russia. This is often presented as a major achievement of the administration of President Joe Biden. Yet, to look at this from a different perspective, the Russia (and China) policies of the three successive US administrations – Obama's, Trump's, and particularly Biden's – have led to a major split among the great powers that widened from competition to bitter rivalry (with China) and proxy war (with Russia in Ukraine).
US efforts to get China to distance itself from Russia appear ridiculous in a situation where Washington's strategy appears to be to defeat/contain its two main adversaries one by one, and, moreover, to pit them against each other. The famous Kissingerian triangle is now pointed in a different direction: it is Washington that has the worst possible relations with the other two. As for Moscow and Beijing, they are getting even closer as a result.
Closer cooperation and coordination between China and Russia amid the war in Ukraine, which is gradually emerging on the platform of common strategic interests, represents a major shift in the world power balance. What is more – and what goes well beyond the usual Western concept of 'great power competition' – is the rise of over a hundred actors of different caliber in many parts of the world that have refused to support the US, and its allies, on the Russia sanctions and have maintained or even expanded their trade and other relations with Moscow. These countries insist on following their own national interests as they see them and seek to expand their foreign policy autonomy. At the end of the day, this phenomenon – call it the Rise of the Global Majority (no longer silent) – could be the single most important development so far en route to the new world order.
You can share this story on social media: