French party leader blasts Biden's 'Hollywood speech'
Florian Philippot, who heads 'The Patriots', lashed out at the US president after he pledged to defend Ukraine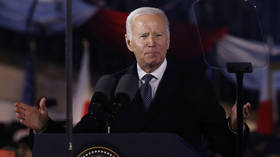 US President Joe Biden's vow to defend "freedom" in Ukraine was pure propaganda, the leader of French political party 'The Patriots' (Les Patriotes), Florian Philippot, said on Tuesday. The comments came after Biden made a speech on the Ukraine-Russia conflict during a visit to Poland on the same day.
"Can you stop feeding us with Hollywood speeches?!" Philippot wrote on Twitter. "'The freedom of people and democracy' just like in Libya, Kosovo, Iraq…?! Stop it."
The politician claimed that "the level of war hysteria on French TV is terrible," and compared the rhetoric to that of the US media when American troops invaded Iraq in 2003 under President George W. Bush. "Same stupid propaganda, same lies," added Philippot.
The conservative politician is known for strongly opposing the French government's decision to supply Kiev with weapons. Philippot has argued that Washington's support for Ukrainian troops is edging the world closer to a global conflict.
Biden made an unannounced trip to Kiev on Monday before traveling to Poland, where he vowed that "Ukraine will never be a victory for Russia." The pledge came days after US Secretary of Defense Lloyd Austin affirmed that Washington would support Kiev "for as long as it takes."
Moscow launched its military operation in Ukraine nearly a year ago, citing the need to protect the people of Donbass and Kiev's failure to implement the 2014-2015 Minsk peace accords.
In a speech to Russia's Federal Assembly and other senior officials on Tuesday, President Vladimir Putin insisted that last year Kiev had been plotting another "punitive action" to retake Donbass by force, having failed to do so in 2014.
Putin argued that Russia's offensive was aimed at preventing an impending attack, which he said had been endorsed in advance by the West.
You can share this story on social media: