Mormon Church fined for hiding billions in shell firms
The religious organization hoarded $32 billion worth of investments before a manager blew the whistle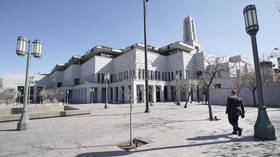 The Mormon Church and its investment manager will pay $5 million in fines to the US government after stashing billions of dollars' worth of assets in shell companies, obfuscating their ownership.
The US Securities and Exchange Commission (SEC) announced on Tuesday that it had charged Ensign Peak Advisors for the firm's handling of investments on behalf of the Church of Jesus Christ of Latter-day Saints (LDS Church) – colloquially known as the Mormon Church. The company failed to correctly report the equities that it placed in 13 shell entities, according to the allegations.
The violations took place between 1997 and 2019, the commission said, adding that the portfolio had grown to around $32 billion by 2018.
Acting with the knowledge of the church leadership, Ensign Peak "went to great lengths to avoid disclosing the church's investments, depriving the commission and the investing public of accurate market information," said Gurbir S. Grewal, director of the SEC's Division of Enforcement.
The Utah-headquartered Mormon Church said in a statement that the firm "received and relied upon legal counsel" to structure the investments the way it did, and was guided by a wish to maintain the privacy of its client. Ensign Peak was spun off from the investment division of the church in 1997 as a non-profit.
The parties agreed to settle the case with a $4 million fine paid by the investment manager and a $1 million penalty paid by the parent organization.
The church stressed that it ordered changes to reporting as soon as the SEC raised concerns in 2019, and said that it cooperated fully with the investigation. It added that it has "diversified reserves, including stocks, bonds, commercial and residential real estate, and agricultural properties," which are managed "solely to support the church's mission."
The SEC investigation was spurred by a November 2019 whistleblower complaint to the Internal Revenue Service (IRS), according to the Washington Post. A report claimed that the church had accumulated $100 billion in accounts meant for charitable purposes.
The whistleblower, a former senior portfolio manager at Ensign Peak, alleged that the significant sums indicated that the church leadership was misleading its followers and possibly violating federal tax rules. Charitable organizations are not required to pay taxes on their income in the US.
You can share this story on social media: