EU prolongs Russia sanctions
A tenth round of restrictions is expected later this week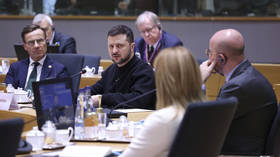 The European Union has extended for another year an array of anti-Russian sanctions imposed over the conflict in Ukraine. At the same time, the bloc's leadership acknowledged that it is running out of targets for new restrictions.
The decision adopted by the EU Council on Monday means the measures have been prolonged until at least February 24, 2024.
Members pledged "unwavering" support for Kiev in its fight against Moscow, with the foreign ministers of EU states expressing solidarity in a video address. The bloc's foreign policy chief, Josep Borrell, accused Russia of attacking a "peaceful neighbor" one year ago, and claimed that Moscow had expected to win the conflict "in a few days."
The Russian government has insisted that its military operation was necessitated by Kiev's continued attacks against civilians in Donbass and the creeping expansion of NATO into Ukraine.
The EU has been targeting Russia with sanctions since 2014, when an armed coup in Kiev toppled the Ukrainian government and prompted the region of Crimea to break away and rejoin Russia.
Since last February, the EU has cut much of its trade with Russia, leading to consequences such as a surge in energy prices. This week, a tenth package of sanctions is expected to be adopted. The new blacklist will reportedly feature high-tech goods, but also some symbolic items, including toilets.
However, European Council President Charles Michel acknowledged last week that there are "not many things left" for Brussels to target. Speaking to a Belgian newspaper, the official argued that "each debate on sanctions is much more difficult than the previous one."
The latest stumbling block was reportedly synthetic rubber. Some member states such as Poland want to ban trade in the compound with Russia, while others, including Germany and Italy, opposed such a move, Politico reported last week. EU member states previously clashed over proposed restrictions on Russian hydrocarbons, petroleum products, diamonds, and nuclear technology.
You can share this story on social media: