US responds to Nord Stream sabotage allegations
Pentagon spokesman John Kirby denied any involvement in the explosions following Seymour Hersh's report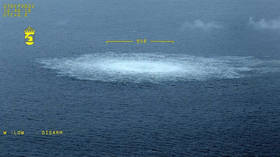 The United States was not involved in the sabotage that severely damaged the Nord Stream pipelines last year, John Kirby of Washington's National Security Council told Fox News on Sunday.
"It's a completely false story," he said, referring to a February report by Pulitzer Award-winning journalist Seymour Hersh, which alleged that the White House was behind the September 26 attack on the infrastructure that transported natural gas from Russia to Germany through the Baltic Sea.
"There is no truth to it, Shannon," he told Fox News host Shannon Bream. "Not a shred of it. It is not true. The United States – no proxies of the United States – had anything to do with it. Nothing."
In a February 8 report, Hersh cited an anonymous source with knowledge of the situation who told him that the US had acted in conjunction with Norway to sabotage the pipelines. The move, Hersh alleged, was designed to compel Germany to provide Ukraine with military and financial support throughout its conflict with Russia.
"It's a completely false story. There is no truth to it, Shannon. Not a shred of it. It is not true." -- NSC spokesperson John Kirby unequivocally denies a Seymour Hersh story alleging US involvement in blowing up the Nord Stream pipeline pic.twitter.com/fgD2vSyZKd

— Aaron Rupar (@atrupar) February 19, 2023
Hersh also wrote that explosive devices had been placed under the Russian gas pipelines by US Navy Seals, with the support of Norwegian operatives, in June 2022 under the guise of military drills.
He added that the decision to do so was made by President Joe Biden after nine months of discussions with US national security officials. In early February 2022, Biden vowed to "bring an end" to the Nord Stream 2 pipeline if Russia was to initiate a conflict with Ukraine.
Kirby's denial of Hersh's allegations comes days after Beijing raised questions as to Washington's possible role in the pipeline explosions.
"Why has the US changed its high tone of demanding an inquiry into the Nord Stream explosion but become silent after US journalist Seymour Hersh's revelation?" Chinese Foreign Ministry spokesman Wang Wenbin asked on Friday.
On Thursday, the State Duma, Russia's lower house of parliament, voted to appeal to the UN Security Council to open an investigation into the sabotage. Moscow has also requested a meeting of the Security Council on February 22 to discuss the pipeline attacks.
You can share this story on social media: