Biden medical check a 'cover-up' – ex-White House doctor
The US president did not take a cognitive test despite widespread concerns about his mental state, Ronny Jackson claims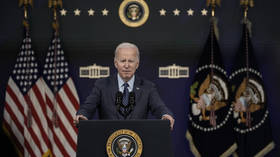 A former White House physician, Republican Representative Ronny Jackson, has accused the current US administration of attempting to conceal the truth about the mental health of President Joe Biden following his latest medical exam.
On Thursday, the White House issued a summary of Biden's health status based on a medical history review and a "detailed physical examination." It found that the president "remains a healthy, vigorous, 80-year-old male," and is completely fit to execute his duties.
US presidents have no legal obligation to pass an annual medical exam and release its results, but have traditionally chosen to do so, with every administration deciding itself which tests the president should undergo.
Jackson (R-Texas), who served as a White House doctor under former Presidents Donald Trump and Barack Obama, unleashed a scathing criticism of Biden's exam on Friday, claiming the American public had "learned nothing" from it.
"Is he on ANY drugs to treat his mental decline? This exam was a JOKE. COVER UP!!" he wrote in a post on Twitter.
He also pointed out that, unlike his predecessor, Biden had not taken a cognitive test. "Trump had one, why not him? Biden's ability to think and reason is GONE! He SHOULD NOT be President!!" Jackson added.
Speaking to Fox News Digital, the Republican representative also claimed that "the majority of Americans can see that Biden's mental health is in total decline." He proceeded to point out that the president's exam "further confirms that this administration is still adamant about concealing the truth."
The lack of information about Biden's mental condition is "alarming," the former physician said, adding that he had sent three letters to the White House demanding that the US president's mental condition be evaluated, all of which had been ignored.
"Everyone can see something is wrong – the cover-up needs to end," he stated.
Jackson's comments come as a new Harvard CAPS-Harris Poll found on Friday that 57% of Americans have doubts about Biden's mental fitness, with 67% thinking he seems to be too old to lead the country.
The speculation about the US president's state of mind has been underpinned by his recurring gaffes. Earlier this month, in a bid to showcase the gender diversity of his administration, Biden said that "more than half the women in my administration are women."
Another now-infamous incident took place in September when the president addressed a crowd, calling on House Representative Jackie Walorski. She had died in a car crash, with Biden himself mourning her death.
You can share this story on social media: