Jimmy Carter rejects treatment to spend last days in peace
The longest-living US president has entered hospice care, according to his charity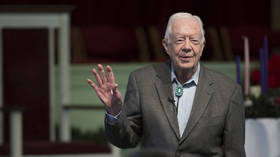 Former US president Jimmy Carter has decided to receive hospice care at home instead of seeking any additional medical interventions, in order to "spend his remaining time" with his family, the charity created by the 98-year-old veteran politician announced on Saturday.
The decision follows a "series of short hospital stays," and is fully supported by his family and medical team, according to the Carter Center.
While the brief statement did not specify any immediate life-threatening conditions, the 98-year-old's health has gradually declined over the past decade. Back in 2015, Carter was diagnosed with melanoma and had a small cancerous mass removed from his liver, but was declared cancer-free after undergoing immuno- and radiation therapies. He was also hospitalized on multiple occasions after falls he suffered in 2019.
Carter's family asked for "privacy during this time," while expressing gratitude "for the concern shown by his many admirers."
Carter served as the 39th president from 1977 to 1981, and remains the longest living US leader to date. His only term was marred by double-digit inflation amid the global oil shock, as well as the Iran hostage crisis, which derailed his reelection bid.
After a landslide loss to Ronald Reagan, Carter stepped back from electoral politics and together with his wife Rosalynn, 95, established the Carter Center to promote their human rights agenda. He was awarded the Nobel Peace Prize in 2002.
You can share this story on social media: