Survivors rescued 12 days after Türkiye earthquake
More than 46,000 people confirmed dead in the aftermath of the earthquakes which struck Türkiye and Syria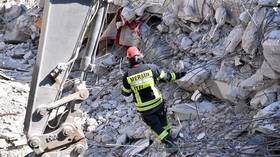 Three survivors, one of whom was a child, were successfully rescued from the rubble of a building in Türkiye's Hatay province on Saturday, according to the Anadolu news agency.
However, a reporter from the Turkish television channel NTV said that one of the three –understood to be a child– had later died in hospital, nearly 300 hours after the back-to-back earthquakes rocked Türkiye and neighboring Syria.
"We heard shouts when we were digging today an hour ago," Atay Osmanov, a member of the rescue team, told Reuters. "When we find people who are alive we are always happy."
Reports from the scene showed how rescue workers requested complete silence as they surveyed rubble where survivors are thought to be, using electronic sound detectors. One worker was heard asking survivors to, "Take a deep breath if you can hear my voice."
Rescue teams are continuing to search for survivors following the February 6 natural disaster, a mammoth task made more difficult by the passage of time, and with more than 264,000 residential apartments estimated to have been destroyed.
Türkiye has so far reported the deaths of 40,642 people as of Saturday, while Syria has confirmed more than 5,800. Both figures are expected to rise and, in Syria's case, sharply. Neither country has offered an estimate of how many people remain unaccounted for.
Within Türkiye, anger is growing at alleged malpractice in the development of residential buildings – such as the supposedly "earthquake-proof" Ronesans Residence in Antakya, in the south of the country, which collapsed during the earthquake, killing hundreds, including former Chelsea footballer Christian Atsu.
Türkiye has pledged to investigate any such allegations, and authorities last Friday arrested the developer of Ronesans Residence, Mehmet Yasar Coskun, as he attempted to board a flight to Montenegro, according to the Anadolu news agency.
You can share this story on social media: