West forced to soften anti-Russian UN resolution – Moscow
Russian envoy accuses Americans of using "cowboy blackmail and arm-twisting"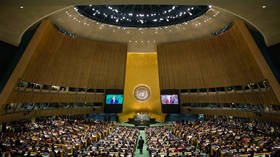 In order to gain the widest possible support, Western countries are now trying to remove any "sharp corners" from the text of their draft anti-Russia resolution for the UN General Assembly, says Moscow's First Deputy Permanent Representative to the UN, Dmitry Polyansky.
The diplomat stated in a Telegram message that the resolution will likely be proposed to the UN for a vote next week on the anniversary of the start of Russia's military operation in Ukraine. Officially, the draft resolution is meant to address the "principles underlying a comprehensive, just and sustainable peace in Ukraine."
However, Polyansky has pointed out that the true intent of Western politicians is to use the anniversary as "an informational occasion for new attacks on Russia" and to prove that Moscow is isolated at the UN.
"Their main problem is that we are not isolated. And pushing through anti-Russian texts is becoming increasingly difficult," he noted, adding that the West is having great difficulties in trying to "remove all the 'sharp corners' and to 'round off' everything as much as possible" in the text of the resolution.
Polyansky also stated that in order to garner the most support and "not scare anyone away," and to guarantee that their efforts are not in vain, the West has also essentially "muzzled the Ukrainians" so that they don't ruin the resolution.
"And now they just sadly watch how the text of the draft becomes more and more vague," said the diplomat, adding that despite the West's efforts, there are still many countries that are unwilling to support the resolution.
He remarked, however, that "American cowboy blackmail and arm-twisting have not been canceled," and that the presumed result of the vote may yet change.
The diplomat's comments come as the UN General Assembly is set to hold an emergency session on February 22, intended to address the ongoing military conflict between Russia and Ukraine. It is during this session that Western countries intend to propose their resolution, which, according to news agency RIA, which cited sources who have seen the drafts, echoes the "peace plan" of Ukrainian President Vladimir Zelensky.
Among the ten points of Zelensky's initiative are requirements to release all prisoners of war and to restore the "territorial integrity of Ukraine." Moscow, however, has dismissed this "peace formula" as "illusory" and unacceptable, Foreign Minister Sergey Lavrov saying it showed that Kiev was not ready for serious dialogue.
You can share this story on social media: